By Joe Wilcox, Betanews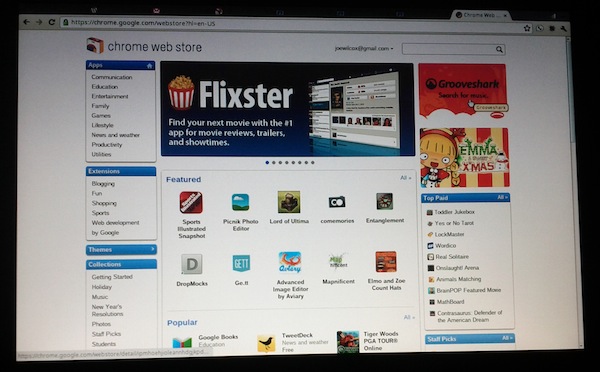 Settling into the cloud is taking longer than I expected, as I try to root out enough applications to make up for what I used locally on my last laptop — the 11.6-inch MacBook Air. The simple reality: There aren't enough good applications yet, or perhaps I'm just too slow finding them. Strangely, if I were living in a different cloud — from smartphone or tablet — I could choose from plenty of apps and many of them would be better than those available on the PC (the difference, of course, being something running locally and connected versus something running in the browser that must be connected).
I got a stronger-bitter sweet taste of the difference between the clouds on the evening of Day 5, when I bought the Nexus S smartphone running Gingerbread (aka Android 2.3) from the local Best Buy Mobile.
Another hardship is unnecessary: The touchpad on the Cr-48 is so miserable to use, Google should package the hardware and supporting software for sale to the military. It's torture to use. I'd confess to just about anything if forced to use this damn touchpad long enough. It's an absolute misery maker that has sucked up about all my holiday cheer.
What If There's No Internet Connection?
Still, five days into running Chrome OS on Google's unbranded Cr-48 laptop, I'm starting to see how I might continue for 10 days — or even 30 — particularly if Google issues regular updates or suitable applications magically appear. I'm not struggling with the always-connected lifestyle change because it's not much of one — remember, Chrome OS demands a constant Internet connection. Since switching to ISDN broadband in 1997 and DSL 18 months later, I've nearly always computed connected. What good is any computer without the Internet? It's an important question because what it means to living in the cloud. Many consumers and IT decision makers will have to get beyond the "What if?" question. "What if I can't connect to the Internet?" My answer: It's more a psychological than real world problem — at least for most businesses.
On December 15th in comments, a Betanews reader simply identified as Jonah challenged: "Shut off your internet, then tell us your experience and estimate the billions of dollars lost in productivity for any corporation that debates a full cloud solution and loses connectivity for a day? Seriously, would love to know how good this computer is without internet."
If I shut off the Internet connection for a regular laptop my experience would be abysmal. There is very little I do that doesn't require a constant Net connection, regardless where the applications run — locally or in the cloud. Isn't that your experience, too? Don't most businesses already depend on persistent Net connections? Not every employee needs Net access, but those that do won't get much work done without it. Jonah's challenge is ridiculous. It's like asking: "Shut off your electricity, then tell us your experience and estimate the billions of dollars lost in productivity for any corporation that debates a full cloud solution and loses electricity for a day? Seriously, would love to know how good this computer is without electricity." For most businesses and consumers, the Internet, like electricity, is a necessary utility.
More people are connected. According the United Nations, the number of people globally with Internet connections will top 2 billion by the end of the year. Internet penetration in developed countries is 71 percent and 21 percent elsewhere. Sixty-five percent of the 226 million Internet users added this year live in emerging markets. Meanwhile, mobile phones are making Internet connections where broadband or dialup don't reach. Mobile telephony is now available to 90 percent of the world population. Subscribers are projected to reach 5.3 billion by end of the year, with 3.8 billion of them in developing countries, according to the United Nations. The latter statistic is important to Google's other operating system, Android.
If the "What if?" question is a problem for businesses or consumers considering Chrome OS, why not smartphones? Mobile handsets also require constant connections — for telephony and data (where service is available for the latter). Subscribers may choose one service over another based on real or perceived service reliability, but they must still commit to a wireless carrier — often accepting at least one-year contract (In the United States, typically two). Businesses deploying handsets, particularly smartphones, depend on their being connected — and willingly take the risk of failure. Should it be such a leap to make the same commitment to an Internet provider, something IT decision makers already do? There's paranoia and then there's realism. No one should disregard Chrome OS simply because their reliable Internet connection might not be available someday. Like their cell network or electricity. By the way, the Cr-48 ships with Verizon data service — 100MB free a month — and more available starting at .99 a month. So there's backup Net service to WiFi.
Being Connected Doesn't Mean Connecting
Chrome OS naysayers should worry much less about "What if?" and more about "What can't I do?" Early days testing, it's a surprising list. While researching about Internet usage for this review, I came upon an Excel spreadsheet posted by the US Census Bureau. Clicking the link downloaded the spreadsheet, which generated "unknown file type" warning. Eh, I had Google Docs open in a tab, shouldn't that somehow open the spreadsheet? I resorted  to "Uploading Files," dragging the file from "Downloads" to "Drag and drop files here" in the browser. No luck. I eventually uploaded the file from Downloads, but once on the server I couldn't open it. Uh-oh.
On Day 1 of testing, I spotted in my RSS feeds "Dp1x winter raw pack" — a collection of holiday photos by Carl Rytterfalk. He packaged them up as a zip file, which I downloaded. Whoops: "unknown file type." I couldn't find in the Chrome Web Store an archive utility by searching for "compressed file" or "zip," although the latter keyword strangely and unexpectedly revealed the NPR app for Chrome. That's good to have for my daily dose of program "All Things Considered."
Printing is another hardship. The Cr-48 has WiFi. I own the Epson Artisan 810 printer, which supports WiFi printing. I've got it setup for the family's other computers. But the Cr-48 and Artisan 810 don't talk — Google has got a cloud printing setup utility instead. At this point in Chrome OS development, the setup process requires connecting the printer to a Windows computer and accessing a Google webpage. Well, hell, I don't have one of those PCs. I lent out my Windows 7 laptop to a friend, so he could experience the new operating system's wonders. I'll wait until he's finished or Google releases a Mac utility.
I plopped my Leica X1 camera's storage card into the Cr-48's SD Card slot, but I couldn't access it. There's no file manager that I can find in Chrome OS; granted, I looked quickly. I typically edit photos using Adobe Photoshop Lightroom (currently version 3.3), which isn't an option here. I'll report on using cloud alternatives on either Day 6 or Day 7.
The Android Cloud Feels Better
I can't help comparing the Chrome OS cloud to the Android cloud. While Android runs apps locally, connectivity is still paramount. Android phones are also supposed to maintain persistent connections for data and voice. The experience there is just so much superior, Chrome OS feels less than what it is by comparison. For example, I can do so much more with photos taken on the phone, such as editing and applying effects (using one or more apps) or quickly uploading to virtually any service from Android's photo Gallery. There's greater utility in almost every way.
Still, developers are rustling the leaves, and beneath them placing new Chrome apps to discover. I haven't counted the apps available from the Chrome Web Store, but there sure feels like many, many more on Day 5 compared to Day 1. My Day 6 report will focus on the more positive cloud experience and some of the benefits I have found there.
Before concluding, links to the first four parts of this series:
A week with Google's Chrome OS laptop, Day 1: Getting acquainted
If you're a Cr-48 tester and have some time or inclination, please share a little about your experience in comments.