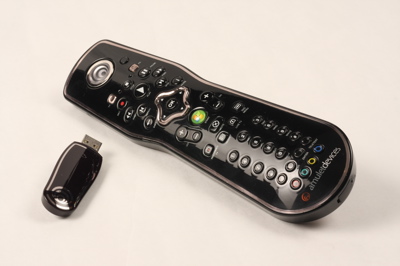 Irish company Amulet Devices today announced it is now shipping its Amulet Voice Remote to U.S. customers. The Windows Media Center remote control supports a full array of voice commands in addition to standard button-based IR navigation.
Through the remote's built-in microphone, users can access their profile and navigate through all the content on their Windows Media Center box. In addition to simply playing the media, users can also program their DVR, instantly navigate to a specific clock time in a video or audio file, skip over advertisements in recorded TV, or ask their Media Center questions such as what song is playing or the title of the show they are watching.
The device does require you to use Amulet Devices' media center software on your Windows Media Center machine if you want to have all of the voice commands available, but according to early reviews, it's worth it. The software is built in Media Center Markup Language, so the experience looks to be a fairly standard one.
The Amulet Voice Remote costs 9 and is available now in the US on www.amuletdevices.com. It will be released in Europe early in the fourth quarter of this year.

Windows Media Center – Remote control – Television – Digital video recorder – Media Center