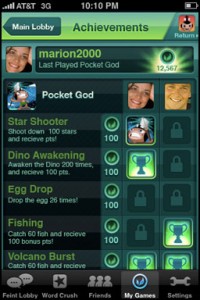 Android's unabated growth has been a hot topic recently, and comScore's smartphone market share breakdown released today shows that from February to May 2010, it was actually the ONLY major mobile platform to experience positive growth.
Among this growth, a complaint about the Android platform has persisted: it has no good games. While this may be a bit of an overstatement, users frequently compare the Android platform with Apple's iOS in terms of functionality, features, and apps; and iOS simply has more high quality games.
However, Android's popularity despite its comparative lack of games has attracted a major player in iOS gaming: OpenFeint.
Today, OpenFeint announced "it's time to give Android some love," and the platform that lets developers add social networking features to their games will be coming soon to Google's mobile OS.
OpenFeint launched on iOS in early 2009 and reportedly attracted more than a million users in less than a month. Now, it has been integrated into over 1,800 different iPhone applications and has 28.1 million active players. Users can connect, chat, or play head to head with their friends, compete with other players on global leaderboards or track their achievements, and discover games that are popular among users.
Aurora Feint, OpenFeint's parent company has described the service as "Xbox Live meets Facebook for iPhone."
The company is working with game publishers and studios such as Hudson, Digital Chocolate, Glu, Pik Pok, DistinctDev, Rocketcat Games, Tastyplay.com, ustwo, and Astraware for a release later this summer.

iPhone – Google – OpenFeint – AuroraFeint – IPhone OS