By Joe Wilcox, Betanews
Are you shopping for or asking Santa for a compact digital camera this holiday? Sure, it seems like everyone who is anyone wants a digital SLR for their Christmas stocking. But compacts have their place — and a newer crop are closer to digital SLRs in performance and photo quality.
But to be fair, close is still a long ways off. Shutter response, action shooting, optical viewfinder, photographic quality and changeable lenses all put dSLRs way ahead of compacts. Still, compacts can be easily carried pretty much anywhere, and many newer models sport surprisingly pro features.
I would want to receive or give any of the digicams listed below for Christmas. None is perfect, and each has different strengths I will highlight. I present them in no order of importance. What features appeal to one person might not appeal to others. Besides, a digital camera is more than about features. It's about handling and ergonomics, too. Anyone considering any of these digicams should try them out in a store. Feel them. Handle them. Use them. Get to know them. This isn't a gadget purchase but a relationship.
The PoweShot S90 is a simply delightful and innovative pocket digital camera. The f/2 lens lets in more light than do most other compacts, and the multi-function control ring (around the lens) will make amateur shooters feel like pros. Meanwhile, the same control ring, 10-megapixel CCD sensor and RAW support should appeal to pros looking for a small carry-along camera.
I can't say enough good about the multi-function ring, which gives the shooter surprisingly easy access to changing settings. A review at Steve's Digicams, emphasizing the lens ring's functionality, sold me on the S90. But that review is gone following a massive site redesign. The replacement review is more a features list. At Gizmodo, Matt Buchanan's S90 review — "It'll Never Leave My Pocket (Except When I'm Taking Pictures)" — captures a geek's reaction to the lens ring, which he found to be awkward to use; I didn't.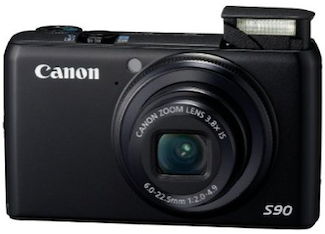 Highlights:
f/2 lens
10MP sensor
RAW shooting
Image stabilization
Multi-function ring
28mm-105mm zoom range
Good low-light performance
Same sensor as PowerShot G11
Dings:
640 x 480 (no HD) video
Street Price: 0 (Spend another and get the Canon PSC900 deluxe leather case)
I highly recommend the S90 to just about anyone — novice, amateur or pro — who doesn't care about HD video in a compact digicam (I'm someone who does). The multi-function ring alone makes the S90 a helluva geek stocking stuffer. By the way, I recommend that most anyone considering the larger PowerShot G11 to choose the S90 instead.
I would never have considered the WX1/B if not for using it. Sony's pro compact takes surprisingly sharp pictures, which perhaps says something about the "G" lens and sensor matchup. The compact is solidly constructed and comfortable to use. Sony has a habit of overwhelming performance with features. But the WX1/B is an exception.
I found the 10-pic burst mode setting to be a bit odd, yet it delivered satisfying results while shooting a high school volleyball game. Small gripe: The feature ties up the camera from other uses for too long, at least for my tastes. The Cyber-shot offers excellent face detection, which improves self-portraits and group shots (It will delight teens). The auto macro mode is simply awesome. "Twilight" mode combines six images into one, sprinkling in some software magic, for night shots without using a tripod. It's appealing, but I got mixed results.
Highlights:
Sony G lens
10.2MP sensor
"Twilight" mode
Auto macro mode
720p HD recording
Image stabilization
Excellent battery life
24mm-120mm zoom range
Dings:
No RAW option; JPEG only
Mono audio; inappropriate for HD video
Audio picks up lens motor when zooming in video mode
Street Price: 9
I recommend the Sony Cyber-shot WX1/B to anyone who wants to shoot like a pro without being one. The auto mode will nicely suit most novices, who can switch to manual mode as their photo skills improve. Twilight mode and surprisingly good normal low-light shooting make the WX1/B an excellent gift for teens or night-owl party goers. By the way, DigitalCameraReview.com contributor Howard Creech posted a first impression review using the camera, today.
Sigma DP1s, Sigma DP2
The Sigma DP1s and DP2 are compact digital cameras that require loads of patience. But for those with patience and a good eye, they will deliver simply the best photos taken by any compact digicam or by many dSLRs. The two cameras share in common the same Foveon sensor also available on the Sigma SD14 dSLR. The sensor has two compelling features: Large size compared to sensors typically found on compacts and pixel color processing. Typical compact (and most dSLR) sensors capture red, green and blue in disproportionate number of pixels on the sensor. By comparison, the Foveon sensor captures each color in its own layer. The difference is richer, more accurate color.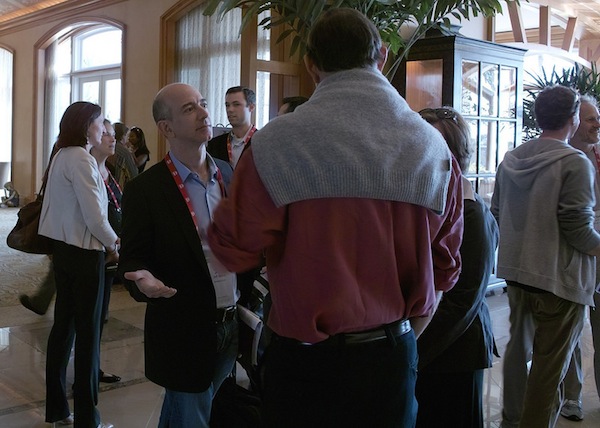 Amazon CEO Jeff Bezos, taken with Sigma DP1
The larger sensor, color processing method and suitably matched "prime" lens deliver exceptionally good photographic results. But both cameras come up short for ergonomics and shutter speed. The LCD display hopelessly washes out in bright light. Simply put: Neither compact is for the masses. But people who use either camera well will shoot simply amazing photos. Carl Rytterfalk's Sigma DP1 and DP2 China galleries demonstrate the compacts' potentials.
Highlights:
Prime lens
RAW shooting
Foveon sensor
dSLR-size sensor
14MP (4.7MP x 3)
Exceptional image quality
Dings:
No image stabilization
JPEG photos are subpar
Cumbersome ergonomics
No macro or zoom options
Low-resolution 320 x 240 video
Slow focusing and shutter response
Writing time to storage cards unusually long
Street Price: 9 for either camera.
I recommend either the Sigma DP1s or Sigma DP2 for patient amateurs or experienced photographers. The major differences between the cameras are the lenses. Sigma DP1s: f/4 24mm (film equivalent). Sigma DP2: f/2.8 35mm (film equivalent). Either camera is ideally suited to nature shots or portraits, although the Sigma DP1s' wider-angle lens will prove a little better for landscapes. Both cameras are pretty much useless for anything moving fast. I recommend either camera as an adjunct to a dSLR but not as the only digital camera used. I highly recommend both Sigma compacts but for the minority of shooters.
Leica D-LUX 4/Panasonic Lumix DMC-LX3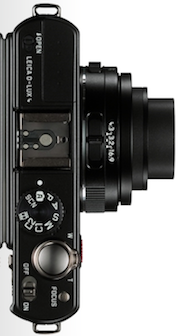 Who says that identical twins are the same in every way? These two essentially identical compact digital cameras are different in ways that will likely divide potential buyers. Leica has big brand appeal, while Panasonic offers the more budget-friendly digicam. The guts are essentially the same — and made by Panasonic — with a Leica lens attached. Feature-for-feature these cameras are identical inside, although their exteriors differ. Ha, does that make them fraternal twins?
The cameras are easy to recommend. Like the Canon PowerShot S90, they have light-loving f/2 lenses. Ergonomics are excellent, RAW shooting is available and shutter response is fast — at least the D-LUX 4 is blazing, or it is with a class 10 storage card. I haven't tested the nearly identical DMC-LX3 but assume performance should be comparable if not the same. Over at DPReview, Richard Butler gives an excellent and through review of the DMC-LX3, which he rates as "highly recommended."
The controversy surrounding these two cameras is religious warfare. Think Mac and Windows PC fanboys. On the street, the Leica digicam costs 0 to 0 more than the Panasonic, for essentially the same camera. As I write, Amazon has the black DMC-LX3 discounted to 8.95, while the D-LUX 4 is 9.95. What's in a name? Oh, about 0. The forum and blog chatter about the price and other presumed differences is fiercely emotional. D-LUX 4 supporters claim the photo colors are warmer and clarity is better than the DMC-LX3. I've done blind tests of photos taken by both cameras and can see the slightest difference in favor of the Leica, but nowhere near 0 worth.
Highlights:
f/2 lens
RAW shooting
10.1MP sensor
720p HD recording
Image stabilization
24mm-60mm zoom range
Good low-light performance
Responsive performance and fast shutter
Dings:
Occasional color over-saturation
60mm zoom range limiting for some shooters
White balance accuracy in high-light situations
Street Price: 0-0, Panasonic Lumix DMC-LX3; 9 to 9, Leica D-LUX 4.
Like the S90, I highly recommend either of these twin cameras to just about anyone — novice, amateur or pro. Auto mode delivers excellent results, while there are plenty of controls for advanced shooters. Pro photographers should find either camera to be a great carry-along. I chose the D-LUX 4 because I preferred the exterior styling and retro Leica brown leather case. But I also shopped around and got good enough deal that the price difference was acceptably small. Would I pay 0 more for the D-LUX 4 this holiday? Absolutely not. But if the styling and prestige of the Leica name matter to you — Ho! Ho! Ho! Merry Christmas!