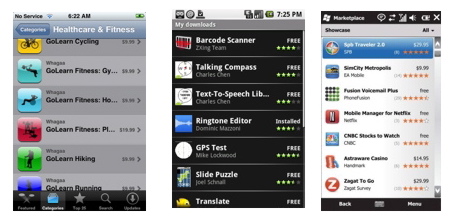 Even though collective analysis shows that the iPhone hasn't done as well as peer marketers would have us believe, the iTunes App Store undoubtedly has. In the first nine months the App Store existed, more than a billion apps were downloaded. Five months later, another billion were downloaded. Naturally, less than half of this vast quantity is thanks to the iPhone, as Apple combines the tens of millions of iPod Touch users downloading apps with iPhone downloaders.
But regardless of the device doing the downloading, the app store model has proven sound and has created a multi-million dollar business. This "app gold rush" has compelled thousands of developers to try their hands at creating software for the iPhone and iPod Touch in hopes of making a fortune.
This business is poised to mushroom in the coming days.
On October 6, Microsoft will unveil its new Windows Mobile 6.5 devices, which will be equipped with the brand new Windows Mobile Marketplace. This will finally provide a convenient outlet for the Windows Mobile environment, which already has thousands of apps at its disposal. Granted, this number of apps is also taking into account software developed for former versions of Windows Mobile, which won't have access to the Marketplace until November, but it's still a heck of a starting point.
Furthermore, Microsoft's odd Brix said in the Windows Mobile Blog yesterday that Tuesday is just the beginning, "We're targeting November for phase two…This second phase will bring the PC-based catalog and shopping experience, user generated app reviews, advanced key-based anti-piracy protection and other enhancements that expand your business opportunity and make it easier for a larger number of customers to find and buy your application."
Google's Android is expected to get its updated market very soon as well, and will likely preempt the Windows Mobile Marketplace launch by a couple of days, if reports are to be believed. Rumors surfaced last night that an over-the-air update to Android will push out the 1.6 "Donut" firmware, which contains a fully revamped Android Market. Recently, developers got their hands on the Donut SDK, and subsequently the ARM-related NDK (Native Developers Kit,) and a number of owners of the Android Dev Phone 1 (ADP1) have reported successful Donut upgrades.
Rounding out the Fall app store updates will be Palm's App Catalog, which will soon start carrying paid application downloads. Last week, the company rolled out the 1.2 webOS update which included the ability to tie credit card information to Palm Profiles, but did not include any for-pay applications.