Google TV is launching to the public in just a short few weeks after being in development for more than a year. The platform will let users stream video content from Netflix, Amazon Video On Demand, and YouTube, browse the Web with Chrome, search for and organize content, and eventually install Android apps.
The first piece of Google TV-compatible hardware expected to hit the market is Logitech's Revue set top box, which adds a layer of home automation control with its "Harmony Link" Infrared (IR) Blaster capabilities.
Harmony Link lets users communicate with Google TV with Wi-Fi devices, and the commands they send get translated into IR signals that control their TV, sound system, DVR, set top box, disc or media player, and so forth.
This feature, however, has received a considerable amount of criticism from certain publications that think IR is too limited of a communication medium, and that it could even be a kiss of death for the device.
But how else could the box communicate with more than 5,000 other pieces of home entertainment equipment? Infrared control may offer fewer capabilities than Bluetooth, and may have line of sight limitations that RF connections do not, but there is simply no other control technology that has been so widely used. If you want a single device that can turn up the volume on your TV, change the settings on your stereo, launch applications on your PC, or dim the lights in your house, IR is pretty much your only option. It's also something that Logitech does quite well.
The Revue is, in fact, the first non-remote control device from Logitech to use their Harmony Link technology; so to commemorate the impending launch of the Revue, and to show the power a good IR unit has, we're giving away a Logitech Harmony One remote this weekend to the Betanews reader who wins our little contest.
THE CONTEST: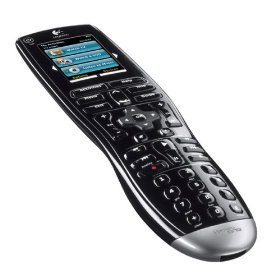 The Harmony One is one of Logitech's most well-regarded remotes, earning it a Best of CES award, and a CNET Editor's Choice award when it launched in 2008. With its touchscreen interface, broad device support, macro capability, and full customizability, this remote is a versatile and powerful addition to a home theater setup.
What's more, it is fully compatible with all of the upcoming Google TV products, so depending on which item you add to your home theater, if it's a Sony Bravia TV, connected Blu-ray player, or Logitech Revue set top box, you can use the Harmony One.
In the comment section below, give us your answer to the following question in the form of an anagram:
"WHAT HAPPENS IF I PUSH THIS BUTTON?"
Please use every letter in your response, and have fun! We'll announce the winner on Tuesday, September 21.

Google – Netflix – YouTube – Remote control – Home automation