By Scott M. Fulton, III, Betanews
Two months ago, Microsoft unveiled its revamped Bing search service, touting it as a "decision engine." There were some genuine new advantages which we did discover, but not everything appeared ready for Bing's first outing, and we were told to expect improvements to some features "in the coming weeks." Not months, weeks.
So this is August, and (do forgive me) what hath Bing brung? In our June series of Face-offs, the final score was Google (4), Bing (3) — not necessarily a runaway, but good enough for the champion to not feel immediately threatened. With Google testing improvements to its search engine, we wondered if we'd find any evidence of tweaking on Bing's side as well. We've decided to put both services through the same paces a second time to see which service is the one that's really gunning for a rematch.
Obscure literary quotes. In our very first heat last June, Bing did a good job of identifying a passage from psychologist Carl Jung, but Google took us straight to the book. This time, we wondered whether Bing or Google could pull up the identity of a translated poem that is itself excerpted, perhaps only once in modern literary history, in a semi-obscure work of fiction. The original source of the poem is an English-language translation of the Diamond Sutra, a statement of the Buddhist faith believed to be the oldest printed book in existence. It could be translated many ways, so the specific English translation we used might give away its translator.
Thus-Gone to Thus-Gone, I with a Buddha's hand
Offer the unplucked flower, the frog's soliloquy
Among the lotus leaves, the milk-smeared mouth
At my full breast and love, like the cloudless
Sky that makes possible mountains and setting moon,
This emptiness that is the womb of love,
This poetry of silence.
The translator in this case is Aldous Huxley, who cited it in one of his last works of fiction, Island. To begin, we tried the first line of the excerpt, which is so unique that it could only apply to either Island or to some discussion of the Diamond Sutra. Item #1 from Google was a page of Huxley's various poems from the same book, while #2 led to a Google Books excerpt from Island itself. No mention of the Diamond Sutra, but still a correct identification.
Bing returned six results for the query as opposed to Google's two, and the #1 result was the same page of Huxley's poem excerpts from a site devoted specifically to the book, Island.org. But #5 on Bing's list was a surprise: a link not to Google Books, but to an independent researcher's page devoted to Aldous Huxley where the entire text of the book could also be found. Granted, the excerpt in question wasn't automatically highlighted like in Google Books, but it wouldn't take but a moment for the browser user to hit Ctrl+F and do an in-page search.
Here's something else we discovered, curiously enough: When we tried for a unique phrase from later in the poem, frog's soliloquy, Google no longer retrieved results from its own Google Books, even though that phrase definitely appears in its version of the excerpt. Bing, meanwhile, continued to point to Huxley.net.
So essentially, it really is possible for Bing to pull up results that are as useful as Google's, in situations where someone else besides Google compiles the database. It's curious that Google's search results omit the reference to Huxley.net, especially since that site has some other Huxley-related resources that might be of interest to a researcher. It's that curious omission which prompts me to give Bing the nod in this particular heat.
Best price on a 1 TB hard drive. One of the features Microsoft touted right away as a proof-of-concept of its "decision engine" motif is its shopping service. We really liked what we found back in June.
So what happened to the big "Shopping" button on the left side? When we tried our 1 TB hard drive entry in Bing a second time (obviously, without enough information in the query to infer that we're shopping for prices), we had to click on the little-bitty "Shopping" button on Bing's menu bar, which today is buried beneath a picture of a ram's horn.
In fairness, Google makes you click on the same button, but I can't exactly say that Bing is improving for working more like Google. While Bing's Shopping page results remain fairly functional, Google has made some subtle improvements over the past few months. Most notably, the range of prices from various retailers (some of which were a bit dubious, and some which were clearly misinterpreted) has been replaced with a single price and a single vendor listing.
On the one hand, that seems logical — folks who are shopping for hard drives are usually looking for the best price. Usually. But the second criterion is often quality of vendor; and at the moment, you actually cannot go "shopping," as it were, between vendors — Google does the shopping for you. I don't want anyone else's "decision engine" doing the deciding for me, thank you very much (which is bad news for Amazon, which gets some serious star treatment in Google's rankings). When I click on Google's listing, it takes me to the vendor it selected; when I click on Bing's listing, it takes me to a list of other vendors offering the same item, which is something I actually want to see.
So I'm actually increasing the size of this particular win for Bing, even though Bing's demotion of the "Shopping" button isn't really an improvement.
Next: Finding that girl from that show with the other girl, you know the one…
That girl from that show. Any good search engine should respond to an explicit and well-phrased query, but we all know that not every user will be able to craft a query that will enable a search engine that catalogs images to associate an image with the phrase. Last June, we had our search engines try to pull up a picture of actor Rod Taylor, using only scant information about him. And it was funny perusing through catalogs containing Johnny Depp and Zachary Quinto and Arnold Schwarzenegger and a lost gosling on a rainy highway, all of which reside on pages whose terms had to do vaguely with the things in our query that had to do vaguely with Rod Taylor.
For our rematch, we portrayed a user looking for the picture and identity of an actress who portrayed author Jane Austen in a movie about Jane Austen, not by Jane Austen. I know, you're thinking Anne Hathaway; no, this one was from British TV, and for the sake of the challenge, we'll pretend we don't remember the name of the show. We'll know her when we see her.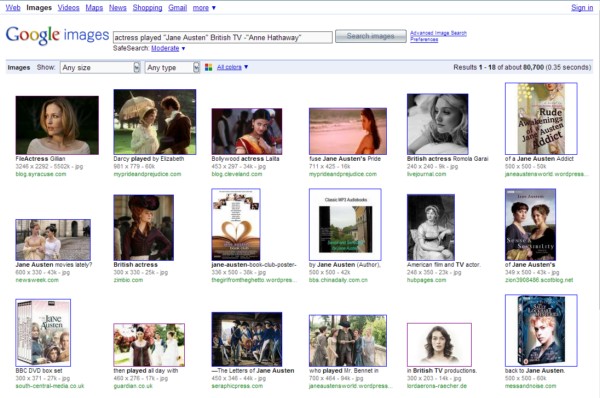 With Google, as a lot of folks know, you can have it exclude results from a search query by preceding it with a little minus. That doesn't necessarily mean it won't pull up a picture of Anne, but it shouldn't pull up one inside a page where her name is listed. When we tried the query actress played "Jane Austen" British TV in Google images, we did indeed see several actresses in productions of Jane Austen novels, though we were surprised to see Gillian Anderson show up as entry #1, completely out of character. The caption for her name in the source page shows her as hosting the PBS Masterpiece series that features Jane Austen dramas, so that's how she got there. The lovely Indian actress in the #3 entry is named Aishwarya Rai, and she stars in an Austen knock-off called Bride and Prejudice.
But right there in row #3, success: The lady we're looking for actually appears twice, once from the show in question, once from her role in a Fox TV series called Dollhouse. The show that was actually on my mind is called Miss Austen Regrets, and the actress' name is Olivia Williams. (Hopefully my wife won't mind too much if you'll permit me to say that I adore this actress.)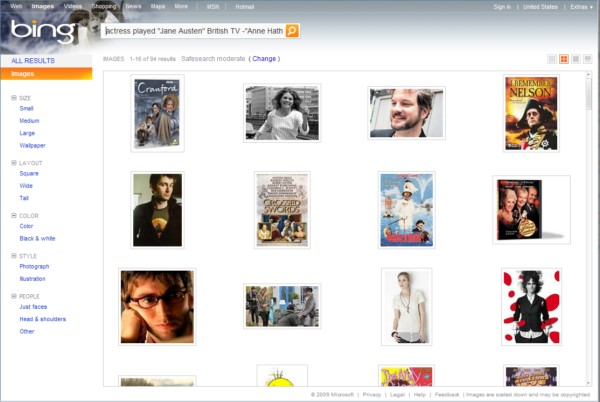 When we try the exact same query in Bing, the first surprise is that a great many of the entries that are shown up top are not of women. That's when it hits you that Google's entries truly did center on women; it pulled up actresses and in many cases appeared to exclude actors. With Bing, we got two pictures of David Tennant ("Doctor Who"), Colin Firth (yes on the Jane Austen, no on the gender), novelist Gregory David Roberts (whose book was reviewed on a page containing another book review from an author who idolized Jane Austen — not a joke), Nicholas Cage, Gene Wilder as Willy Wonka, Bruce Greenwood (twice) as Capt. Pike from Star Trek XI (what is Bing's deal with Star Trek XI?), and Australian Idol contestant Carl Risely.
One of Bing's filtering tools enables you to exclude everything but head shots, or head-and-shoulders shots. The Just faces tool limited our first 100 or so results to a dozen head shots, and for reasons we can't fathom yet, several head shots of actresses were excluded when actors were not. Case in point, Lindsay Wagner was excluded. Now, I can't think of a Jane Austen movie she's been in, but at least she's an actress, and I believe she still has a face.
How much tuning would we have to do for the Bing query to reveal one measly photo of Olivia Williams, without asking for her explicitly. If we add Masterpiece (the PBS series where her movie aired), for some reason Bing adds movie posters from Harry Potter and Pan's Labyrinth. When we replace Masterpiece with Dollhouse (the Fox show she's in), we get four items which don't include head shots at all — one is a Grammy award, and the other is a news photograph of a car being tugged out of an icy retention pond.
So far in our rematch, it's Bing over Google winning two out of three. But that last run given up in the previous inning was a costly one for Bing.
Last June, it was obvious to us that Microsoft needed to make serious adjustments to its capability to discern contexts from information, if it was to ever have serious reason to claim usage share from Google. Two months later, however, the search engine that's making changes in the interest of becoming more competitive — for better or worse — appears to be Google. People use search engines to find stuff, not go browsing through stuff.
It was Microsoft that brought the issue to the forefront, when its Bing ad campaign made the point that if we all spoke to each other the way Google finds search results — with rambling, often random associations thrown out willy-nilly — we'd never make sense to anyone. It's a brilliant campaign, but so far, the search engine needs to live up to its billing. After two months, we find Bing is still lagging behind. After purchasing a space for Bing on #2 Yahoo, Microsoft continues to run the risk of being perceived as #3.