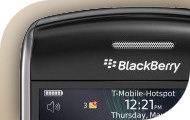 Just days before the October 11th deadline, the United Arab Emirates' Telecommunications Regulatory Authority today announced that Research in Motion's BlackBerry services are now compliant with local law and will not be blocked.
Research in Motion's BlackBerry services have stirred controversy in a number of countries due to the fact that they communicate only with offshore servers and do not allow any backdoor surveillance. In addition to the United Arab Emirates, Saudi Arabia, Indonesia, Lebanon, and India have all asked for RIM to alter the BlackBerry messaging structure to conform with local laws. A common complaint is that illegal activity could be discussed and planned securely on BlackBerry and local authorities would have no access to such communications.
The UAE gave RIM until October 11th to come up with a solution, or face total service suspension. At the time, RIM issued a statement saying it could not concede to the demands being put upon it.
"The BlackBerry security architecture for enterprise customers is purposefully designed to exclude the capability for RIM or any third party to read encrypted information under any circumstances. RIM would simply be unable to accommodate any request for a copy of a customer's encryption key since at no time does RIM, or any wireless network operator, ever possess a copy of the key," the statement said.
A brief statement this morning from the UAE's Telecommunications Regulatory Authority said a solution has been reached, and BlackBerry services will continue as usual.
"Telecommunications Regulatory Authority said that all BlackBerry services are compatible with the framework legislation, the telecommunications sector in the UAE. Accordingly, the TRA confirmed today that all the Blackberry services will continue as usual and will not be suspended on October 11, 2010. The Telecommunications Regulatory Authority said in a statement issued today that the company Research in Motion had cooperated in the access only solution compatible with this legislation in the state," the statement said.
Unfortunately, neither the TRA nor RIM are providing any further details as to how the solution works, but now that there is a workaround that RIM approves of, perhaps it can be applied in the other countries where BlackBerry has come under scrutiny.