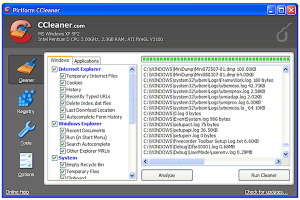 Piriform Inc has released version 3.10 of CCleaner, its popular free cleaning tool for Windows-based PCs. CCleaner 3.10, which is also available as a portable version, adds support for Internet Explorer 9.0.2, Firefox 6.0 Final and Firefox 7.0 Beta.
Version 3.10 also adds a number of new and improved cleaning options, plus promises better accuracy and reliability when wiping free disk space as well as entire drives.
New cleaning options added to version 3.10 include Microsoft Search, cached fonts, SUPERAntiSpyware, Foxit Reader 5.0 and SpeedBit DAP. In addition to adding support for the aforementioned browsers, CCleaner 3.10 has also added an option for binary cookie files cleaning and management in Safari 5.1.
The program also promises improved cleaning for Opera 9's Last Download Location feature along with Safari's local storage, Chrome's "Saved Form Information" and "Saved Passwords" options, plus Internet Download Accelerator. It also includes non-specified "minor optimization tweaks".
CCleaner 3.10 is a free download for PCs running Windows XP or later. This latest release follows hot on the release of Piriform's system information tool, Speccy, which is also for PCs running XP or later. Speccy 1.12 adds compatibility with newer Nvidia cards, better RAID support and improved display of Operating System data, including environment variables and running processes.
A Mac version of CCleaner is currently also in development. CCleaner for Mac Beta 3 is available now as a public download for Macs running OS X Leopard (10.5) or later — as with all beta software, extreme caution should be applied before using it.