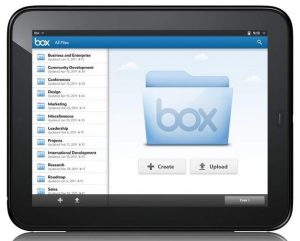 One of the nice bonuses of the HP TouchPad is that it comes with a lifetime 50GB cloud storage account from Box for free. This is exactly ten times more storage than they offer standard users on their free tier.
With the sudden discontinuation of the TouchPad and the subsequent liquidation of all stock, this little bonus looks a lot sweeter, but we wondered if Box could pull out of the deal due to behind-the-scenes agreements and arrangements.
We contacted Box over the weekend just to make sure that the offer was still safe, even as the TouchPads are being liquidated.
Box co-founder and CEO Aaron Levie told us that there's no stopping the free accounts.
"We're absolutely still offering 50GB of free cloud storage to all TouchPad owners, and not surprisingly, we've seen a significant spike in signups through the Box for TouchPad app in the past few days, bringing total app downloads to 30,000," Levie said. "Because our goal is to make accessing and sharing content simple across all devices, these users will benefit from our 50GB offer across the many mobile operating systems we support, including Box apps for iPhone, iPad, Android phones and tablets, Playbook, and our HTML5 mobile web app."