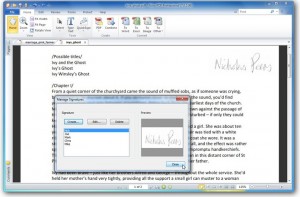 Think Portable Document Format, and you might be forgiven for thinking it's a closed standard that requires you to install software from Adobe to both create and view PDFs. You'd be missing a trick if you did restrict yourself to Adobe software though, because there are many other PDF tools out there equally as capable, often cheaper and sometimes offer unique features of their own.
Take Nitro PDF Professional, for example. About to be released in its seventh major incarnation, the rebranded Nitro Pro offers professionals all the tools they need for creating, editing and collaborating on PDFs for a significantly smaller outlay than Adobe's own Acrobat range. With prices starting from $99 — a saving of $200 over Adobe Acrobat Standard — you'd be crazy not to take a closer look.
Nitro already boasts all the tools you need for creating, editing, converting, reviewing, annotating and combining PDFs from any number of sources — you can even purchase for a small – $20 — sum an OCR engine for extracting text from scanned documents and images. It's also business and enterprise-friendly with support for popular document management systems, including Hummingbird and SharePoint.
Nitro Pro 7 provides block-editing tools for text.
With that in mind, what does version 7 add to the mix to try and take Nitro Pro to the next level? For starters, its text-editing tools have a feel more akin to your word processor, thanks to the introduction of text editing within paragraph blocks, with the text now automatically reflowing and reformatting as required.
There's a new renedering engine, rebuilt from the ground up, which promises to deliver both better performance and greater quality — Nitro says text will be crisper, while vector art will be both more accurate and rendered more quickly. It claims internal benchmarks show speed improvements of over 500 per cent when working with CAD drawings.
Nitro Pro 7 also introduces redaction features, making it possible to identify and remove sensitive or private information — text and images — from documents.
Stamping Your Authority
There's a new Digital Signature Profiles feature, allowing users to create profiles to speedily apply digital signatures with a single action, perfect for those documents requiring multiple signatures.
Similarly, QuickSign is a new feature that allows you to digitally "stamp" your handwritten signature — complete with transparency layer and anti-alias effect for greater realism — to your documents with a single click of the mouse too. This feature is joined by Dynamic Stamps, whichs allow the user to custom-build stamps with relevant information such as time, date, location and user, which can be used to track a document's approval progress.
Quickly add your signature to documents with QuickSign.
A Better User Experience
Nitro Pro 7 also aims to make itself even more user-friendly. It sports the same ribbon-like interface found in Office (and earlier versions of Nitro), but adds the following tweaks to help the user. First, you can now type text directly on to pages with a single click — perfect for making notes or filling forms, for example.
Static XFA forms are now supported, allowing the user to view, fill and save content in them. Support for layered documents is also extended with options for viewing and turning individual layers on and off, plus there are options for saving and printing individual layers for reviewing and managing purposes.
Nitro Pro 7 also introduces some features found in Nitro Reader 2.1, such as the ability to preview PDFs in your web browser, Outlook and Windows Explorer itself.
Try for Yourself
Nitro Pro 7 will be officially released during the first week of November, at which point you'll be able to download trial versions of both 32-bit and 64-bit builds for PCs running Windows XP, Server, Vista or 7. You can get a sneak preview of some of its new features by installing the free Nitro Reader 2.1software, while the current version of Nitro Pro itself — 6.2 -is available for trial download in both32-bit and 64-bit forms. Look out for our extended review in due course.