By Scott M. Fulton, III, Betanews
There's precedent throughout the European Union protecting the rights of ISPs when Web sites they host end up streaming defamatory, libelous, or injurious content. Despite that, a Milan judge today sentenced three of four Google executives convicted last November of violating the privacy of a boy victimized in a briefly-posted YouTube video, to six months' suspension.
The sentencing came even though the original plaintiff in the lawsuit — representatives of a boy with Down's Syndrome, who unwillingly appeared in a YouTube video showing classmates tormenting him — reportedly withdrew from the case last week, as first reported by IDG's Philip Willan last Sunday. In an American court, this would normally lead to a dismissal; but Judge Oscar Magi took the not-unprecedented step of assuming the role of the plaintiff, effectively trying the case on behalf of state prosecutors.
In the absence of legislative action, Italian courts have worked to establish precedent that Internet service providers are responsible for the data that moves through their pipelines. Earlier this month, the country's Supreme Court reinstated an overturned block on the IP address of file trafficking site The Pirate Bay. This despite a ruling the same week from a court in Norway, near the site's native Sweden, that one of that country's largest ISPs, Telenor, would not have to block access to TPB for its customers.
Up to now, Italian lawmakers and judges have perceived it difficult to hold uploaders of content to Internet video services like YouTube, and the hosts of that content such as YouTube itself, to the same level of civic responsibility as the country's broadcasters. But a fix may be in the works. Last month, IDG's Willan also reported on the issuance of a decree from Italy's communications ministry, that effectively declares the posting of video to the Internet the same as broadcasting over the public airwaves. Thus, anyone posting a video would require a license from the Ministry.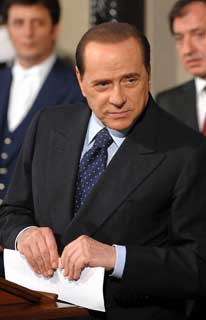 Italian Prime Minister Silvio Berlusconi continues to own some of that country's largest publishing and broadcasting institutions, including Mediaset. That corporation filed a half-billion euro lawsuit against YouTube in July 2008, ordering it to remove all instances of copyrighted content that allegedly infringe upon Mediaset's portfolio — including clips from soccer games and the reality show "Big Brother." Each hour someone watches Il Grande Fratello on YouTube is one less hour of watching it on Canale 5. Last December, a Rome court ruled in Mediaset's favor.
The Communications Ministry is answerable to the Prime Minister. Meanwhile, Mediaset has taken an investment interest in Endemol, the Holland-based creator of the "Big Brother" franchise…which, ironically, is all about the lack of privacy.
Earlier this month, The Hollywood Reporter noted, reports in the Italian press stated Mediaset was preparing to settle with YouTube. The deal, reports said, would involve the publisher dropping the €500 million claim against YouTube, in exchange for dropping its own parent company, Google, as its advertising supplier in Italy in exchange for Publitalia, the television advertising agency at the center of Berlusconi's holdings since the 1970s.
Google's Deputy General Counsel for Europe, Matt Sucherman, responded to the news of the sentencing of his company's executives this morning: "We are deeply troubled by this conviction…[because] it attacks the very principles of freedom on which the Internet is built. Common sense dictates that only the person who films and uploads a video to a hosting platform could take the steps necessary to protect the privacy and obtain the consent of the people they are filming. European Union law was drafted specifically to give hosting providers a safe harbor from liability so long as they remove illegal content once they are notified of its existence. The belief, rightly in our opinion, was that a notice and take down regime of this kind would help creativity flourish and support free speech while protecting personal privacy. If that principle is swept aside and sites like Blogger, YouTube, and indeed every social network and any community bulletin board, are held responsible for vetting every single piece of content that is uploaded to them — every piece of text, every photo, every file, every video — then the Web as we know it will cease to exist, and many of the economic, social, political and technological benefits it brings could disappear."
From the perspective of those in power in Italy, that might not be such a bad thing.