On-demand streaming video will eventually replace disc-based media and linear broadcast media. As high-tech consumers, we've been hearing about it for years, and there are literally hundreds of set-top boxes and TVs available today that are equipped with broadband connections to prove it.
But getting movies and television into our living rooms is only one use for streaming video, and Hollywood veterans Anatoly Fradis and John Vulich have debuted a new product called Aurora CineStreem that is the first streaming set top box we've seen that is designed to be used by professional filmmakers.
"We were in Romania shooting two Return of the Living Dead films, using the best technology," Fradis told Betanews. "At the end of the day, we sent everything to a first-class lab to develop the dailies. They would digitize the film and send it to L.A. over a T5 line. When it got there, they were burning DVDs of the footage. Somehow, it was going through so many hands, that two weeks into production of the film, people were already doing reviews of it on YouTube!"
Fradis, who was producer of the film, and Vulich, who was associate producer, used this experience as the basis for building a secure streaming service that would let filmmakers securely share their daily prints, rough cuts, special effects plates, and screen tests.
The product that resulted was Aurora Cinestreem.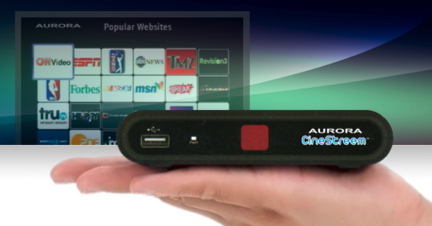 Outwardly, CineStreem looks like a lot of the other consumer set top boxes. It's a 4″ x 6″ black box that connects to a television through HDMI or composite RCA, and connects to the internet via 10/100 Ethernet or Wi-Fi, and then gives the user access to content delivery networks YouTube, CinemaNow, Netflix, Amazon on Demand, CNN, ESPN and so forth.
But behind that is a whole layer designed to cater to the needs of filmmakers and take the rough-cut DVD out of the process. For example, the "My Production" feature lets film and special effects crews stream their works in progress to other team members or executives, replacing the DVD "daily," (a disc of the day's raw footage.) Also, the "Dedicated Network" feature lets producers privately distribute their finished content to authorized boxes, which replaces the need for DVD screeners.
By eliminating physical DVDs from these parts of filmmaking, Cinestreem removes a weak point in the film production chain from which pirated copies of movies often originate. Additionally, the boxes are equipped with no less than five types of security: AES 128-bit encryption, HDCP encryption, password authentication, forensic watermarking, and Rovi/Macrovision copy protection. This means that even in the unlikely event of a stream being intercepted, it will be especially difficult to lift a useable image from.
So the Aurora CineStreem provides a way for filmmakers to share rough content that is more immediate, more secure, and less materially wasteful than current methods, and it's priced like a consumer device: 5 per box and a .95 monthly subscription charge.
"It is my belief that DVD, Blu-Ray, and even film will all be dead in five years," Fradis exclaimed. "Digital movie projectors in theaters that pull their streams from the Internet or a direct satellite feed aren't too far from what we're doing right now."

YouTube – Filmmaking – Film – Netflix – DVD