By Joe Wilcox, Betanews
Last week, I took my daughter to Los Angeles for a TV commercial audition. About 20 other teen girls waited with their parents, and all — every single one and parents, too — had out a smartphone. Tap, tap, tap text and apps. It's an anecdotal moment supporting an IDC prediction: By 2014 the global market for mobile applications will surpass billion.
IDC published the findings in a new report "Worldwide and U.S. Mobile Applications, Storefronts, and Developer 2010-2014 Forecasts and Year-End 2010 Vendor Market Shares: The 'Appification' of Everything." The analyst firm is quite serious about so-called "appification" (God help us if the word makes the Oxford English Dictionary by end of 2011). There are two main trends: Lighter, mobile apps popping up in more devices — some stationary like settop boxes — and mobile applications impacting virtually everything people do. Personal example of the latter: During the drive back from LA, my daughter downloaded an app that turned her smartphone's LED camera flash into a light, so she could do homework.
"Mobile app developers will 'appify' just about every interaction you can think of in your physical and digital worlds," Scott Ellison, IDC vice president of Mobile and Wireless research, said in a statement. "The extension of mobile apps to every aspect of our personal and business lives will be one of the hallmarks of the new decade with enormous opportunities for virtually every business sector."
It's a bold prediction with huge implications. For starters, it's yet another sign that the PC epoch is receding before the cloud-connected device era. IDC observes that developers have churned out 300,000 mobile apps in three years — 2.5 really. In July 2008, when Apple launched its App Store, I asserted: "Mobiles will replace computers as the most widely used personal devices; today, they're more adjuncts." A smartphone is more personal than the personal computer. People carry 3G handsets everywhere, and there is more intimacy using the applications. Users can pick and choose smaller apps that are meaningful to them. Developers already follow the money, which is away from the PC to the cloud and the mobile device.
Something else: The personal versatility that IDC associates with mobile applications reminds of what analysts said about the early PC. The personal computer is unusual for being a jack-of-all-trades rather than single-purpose device. Same can be said of smartphones, ebook readers like Barnes & Noble Nook or media tablets like Apple's iPad or the Samsung Galaxy Tab. IDC also sees theses devices driving developer opportunities for creating useful mobile applications.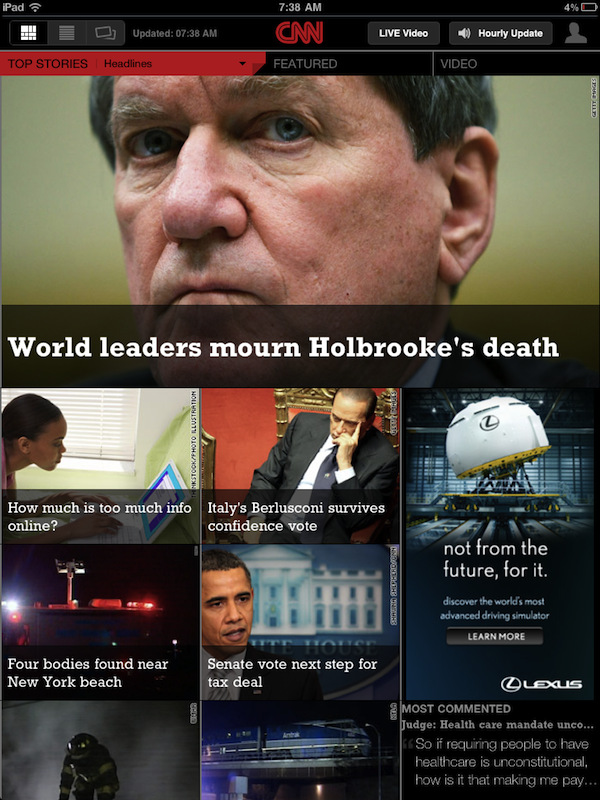 CNN iPad app, which released today
There is another implication, which is more strategic. My April post "Clash of the Titans: Apple, Google battle for the mobile Web," focused on two divergent strategies — Apple pushing resident apps and Google favoring browser consumption. Will users consume separate mobile applications or use the browser? The Chrome OS PC pilot shows how much Google is committed to the browser model. But devices running Google TV and improvements to the Android Marketplace also emphasize local apps.
IDC makes a point of calling out settop boxes running mobile applications, among other devices. I've been wondering about Google TV. Logitech Revue and Sony Internet TV Blu-Ray Disc Player sell for 9 and 9, respectively; both devices run Google TV. By comparison, Apple TV and Roku sell for about 0. That's quite a price difference. Could it be for the apps? I wonder and can't answer, having not used a Google TV device.
How would you say that mobile applications/devices "appify" your life? Is the more meaningful appification on your phone or PC? Please respond in comments.