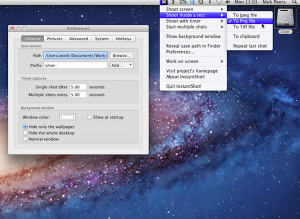 It's a strange quirk of OS X that it boasts not one, but two separate screen-capture utilities. One is triggered simply by pressing [Cmd] + [3] or [4] depending on whether you want a full-screen shot or a portion of the screen. While configurable, you'll need to fiddle about with the command line each time you want to change a setting.
Open the Applications > Utilities folder and you'll find the other: Grab. It allows you to take timed grabs, place your choice of cursors on the screen and save the finished output with your choice of filename in your chosen location. Each tool has its own pros and cons, but what if you could combine the best of them into a single free utility for your Mac? The good news is you can, in the form of InstantShot! 2.5 for Tiger, Panther and SnowLeopard, or InstantShot! 2.6b for Lion.
Once launched, InstantShot! is accessible from your menu bar via its scissors icon. From here you can instruct the program to capture the entire screen or capture a portion (rectangle) of the screen, which can either be a selected window or a user-defined region (click and drag the mouse). To select a region that can subsequently be resized before you capture it, hold the [Shift] key.
The program can also take timed screen captures, but whereas Grab makes you wait 10 seconds before it grabs the screen, InstantShot! allows you to set this time yourself (default, five seconds). Oh, and you can capture specific windows or portions of the screen using the timer too.
InstantShot! also allows you to take multiple screen captures in one go, with a pre-selected interval between each shot. All of these shots can be output as PNG, TIF or JPG, and can be saved to a folder of your choice using a naming convention of your choice too. And of course you can add hotkey combinations for any or all of these different screen capturing techniques.
It doesn't end there: you can opt to remove the background display from your captures, scale or limit the size of the captured shots (perfect for thumbnail images) and more besides. It all adds up to the perfect alternative to OS X's screen-capture tools, helped enormously by the fact InstantShot! is completely free to use.
InstantShot! 2.5 is a free download for Macs running OS X 10.4 (Tiger), 10.5 (Leopard) or 10.6 (Snow Leopard). OS X 10.7 (Lion) users should install the beta of InstantShot! 2.6 instead.