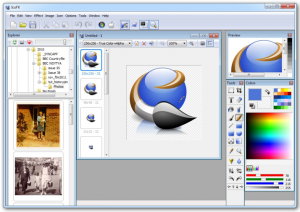 For the past few years, IcoFX has lain apparently dormant, despite noises from the developer that a new version was in development. This powerful icon editor has suddenly resurfaced, however, with a major new version number, IcoFX 2.0, and a shock for those who've been using the previous build: IcoFX is no longer freeware.
IcoFX 2.0 is now available to download as a trial version, and the full version will set you back the princely sum of $59. The question is, what's exactly changed to justify the new price tag?
The new trial version will run 15 times before it reverts to a cut-down demo with the save functionality disabled. Once launched, the program sports a brand new user interface, with certain tools, such as brushes, more visible.
IcoFX now supports the creation of both static and animated cursors, with additional options such as creating a cursor's "hot spot" and testing it accessible from the Image menu. These features were previously available via a separate sister tool called AniFX, which, like previous free builds of IcoFX,  is no longer available.
IcoFX 2.0 also introduces support for layer-based image editing via its own proprietary IFX format. This is accompanied by a host of new image-editing features, including more sophisticated brushes, a wider range of selection tools (including the magic wand) and a host of multi-colour gradients.
All of these are welcome for those looking to create striking icons from scratch, but other changes are harder to discern; the release notes for IcoFX 2.0 don't help here, simply listing "Major release with many new features". We were able to glean that IcoFX 2.0 can now import TIF images in addition to other formats already supported in the earlier version, such as PNG and JPEG, for example.
While these changes are welcome, it's hard to see exactly what's so new in IcoFX to justify its new price tag. As a freeware icon editor, it was the number one choice of Windows users, but by slapping a prohibitive $59 price tag on to the software, it will be interesting to see what existing users make of the hike in price for new features that won't necessarily appeal to a wide group of people.
That's a shame, but although the software is more powerful and easy to use than ever, the fact remains that for many people, the features already present in version 1.6.4 are more than sufficient. You might want to quickly snaffle a copy of the last freeware version by Googling IcoFX 1.6.4 before it disappears forever.
IcoFX 2.0 is available as a 15-use trial for PCs running Windows XP or later.