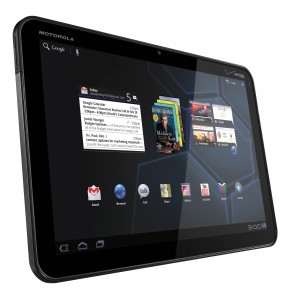 You were an earlier adopter. You bought Motorola XOOM six months ago — or five, or three, or one — on the promise of a free LTE upgrade. Soon. But you waited, and waited, and waited. Then Verizon released Samsung Galaxy Tab 10.1 LTE first. You felt gipped. Angry. Frustrated.
The wait is over. Finally, Motorola and Verizon are coming through for you. Today Verizon announced that XOOM LTE upgrades start tomorrow, and that XOOM 4G LTE models will be in stores on October 13.
If it's any consolation, you waited longer but Tab 10.1 LTE buyers pay considerably more. Verizon sells the XOOM 4G LTE with 32GB for $499.99. Samsung's 16GB model costs $30 more, and the 32GB Tab 10.1 LTE is $599.99. For the privilege of paying more, Tab buyers also get Android 3.1 and Samsung's TouchWiz UI. XOOMers are rewarded with Android 3.2, consistent updates to the newest Honeycomb version and no tacked-on skins. Now that Google is buying Moto Mobility there's some assurance of purer Android experience for the future. You're a gadget geek, you don't want Samsung crapware, or any other.
If you signed up for a Verizon email alert, you should receive it tomorrow — or you can go to this website (which isn't live as I post) for instructions. The upgrade is free, but you'll have to wait (gasp) six business days to get your tablet back. Yes, I know you thought the waiting was over. Waiting with your XOOM was bad enough, but this!
I have to wonder, what is it about October and mobile devices this year. Geesh:
That's a shortlist, and surely I left out something.
Back to the story's question. Was it worth the wait? Would you have bought XOOM later or chosen something else had you known how long the wait would be? Did you hold off buying XOOM, waiting on the 4G LTE upgrade? Or perhaps you don't care about 4G and are satisfied with the WiFi-only model which lists for the same price but with no contractual commitment.
As is typical, Verizon's pricing on XOOM 4G LTE requires 2-year contract, and you'll pay dearly for the data: $30/month for 2GB; $50/month for 5GB; and $80/month for 10GB. The cheapest plans adds $720 to the cost of the tablet over 24 months.
To a July post, commenter Xoom_user expresses: "I've had my Xoom since it was first released, and while I could be pissed about the delay in 4G, it really doesn't impact me much. I use my Xoom about 90 percent of the time via WiFi, 10 percent of the time on 3G. Given that Verizon has Draconian bandwidth limits on my Xoom contract, 4G service would only help me exceed my limit much sooner than I'd want".
William Owen shares similar sentiment: "I purchased my Motorola Xoom at Costco on the day it was released, February 24, 2011, and have been very pleased with the device. I use it while doing cardio machines at the gym to check email or to listed to radio stations from throughout the world on TuneIn. Sure, I'm a bit disappointed that the 4G upgrade and SIM card capability did not happen 'within 3 months' as had been floated back in February, but 3G has worked well for me during those times when I don't have WiFi access".
Is XOOM 4G LTE better late than never? You know where to respond.