Yesterday, Microsoft launched Windows Marketplace for Mobile's Web component, a version of the store fully accessible through any browser.
I lamented that Apple had not yet created a similar face for the iTunes App store, even though it is the most popular download shop among the smartphone competitors. Users who want to browse the contents of the iTunes store, be it music, videos, or applications, must have the iTunes desktop software installed or otherwise browse it on their iPod Touch or iPhone (in which case they're almost guaranteed to have iTunes installed on their PC anyway.)
So the problem was that there was really no way to browse the iTunes store if you didn't use the iTunes software.
One reader was quick to point out that I didn't cite iTunes Preview, a Web-based iTunes store which was rolled out less than 24 hours after Microsoft's announcement.
So in the interest of fairness, let's talk about what Apple has brought to the table with iTunes Preview.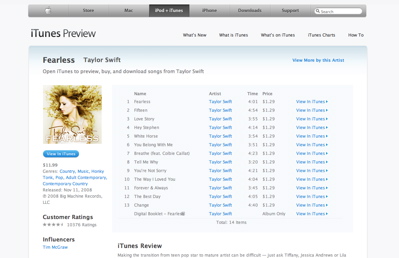 As I said before, iTunes Preview is a Web-based iTunes storefront which finally begins to address the accessibility gap created when Apple's downloads are only browsable within iTunes itself.
So now, users can browse the entire iTunes catalog by genre or artist name, and read album reviews as well as customer reviews and ratings.
But things run into a bottleneck very quickly when it comes to actually consuming music. There is no way to preview songs within iTunes Preview (ironic, I know), and no way to purchase and download music. These can only be completed if the user hits "View in iTunes," which launches the desktop software.
So iTunes Preview creates a sort of "look, but don't touch" window into Apple's downloadable music library if you don't have iTunes installed.
While it's currently for the music portion of the iTunes Store and not the movie/tv or app sections, iTunes Preview is actually a step in the right direction that arguably should have been taken long ago.