By Joe Wilcox, Betanews
Succinctly stated: You pay more.
Apple has a reputation for charging more for most everything, while often delivering less than competitors. Any Windows PC-to-Mac laptop pricing comparison is example enough. The Windows computer typically comes with higher-resolution display, more system memory and beefier storage than comparatively-priced Mac portable.
However, iTunes store has long been the exception to Apple higher pricing. Right from its Spring 2003 opening, iTunes store offered affordable singles and albums — hey, who could complain about 99 cents or .99, respectively? But recently, iTunes pricing has gotten wicked crazy, following last year's institution of variable pricing. I got to taste the insanity early this afternoon, when finding a new album selling for about 8 bucks more for the iTunes digital download than the CD sold by Amazon.
What the frak?
Is It Rain or Shine?
It's New Music Tuesday, when I rush online to survey the releases. O.A.R. has a new live album, "Rain or Shine," which immediately caught my attention. But my enthusiasm skidded to a halt when looking at the iTunes price: .99. Yeah, there are 38 tracks, but 25 bucks — or .29 per track? At the per-track price, the album would cost more than . For the full album, per-track price savings, someone else might bow before the great Apple god in gratitude. I'm an ingrate. I looked to AmazonMP3 for a better price — and couldn't find it. Amazon's digital download store doesn't list the album. But the retailer carries the CD, with all 38 songs for .99. That's 5 bucks off the list price, which is still less than what iTunes charges.
Apple isn't just charging more, it's doing so for a comparatively inferior product. Music fans can argue the merits of AmazonMP3's 256kbps MP3 encoding compared to Apple's 256kbps AAC. But there's no argument about lossless, uncompressed Compact Disc Digital Audio format and its 1,411kbps bitrate.
I've known for sometime that iTunes charges more than AmazonMP3 for many albums or singles, but this was my first encounter with pricing substantially above a CD. In April 2009, when Apple instituted variable pricing, I blogged: "What Apple Variable Pricing Means to You." I did numerous pay-more comparisons between AmazonMP3 and iTunes stores. Apple pay-more pricing was already in effect for most newer or popular tracks.
I wondered if perhaps "Rain or Shine" is a fluke, which is how I came to write this post. The first question: Does Amazon offer the album for substantially less than other retailers? Answer: No. F.Y.E. lists "Rain or Shine" for .99, but store club members only pay .49. Holy Heck, Batman, not only does the music retailer charge to .50 less than Amazon, but to .50 less than iTunes!
Apple's Pay-More Pricing
What about other albums? Black Eyed Peas' "The E.N.D." is .99 from iTunes. Amazon sells the CD for .49. However, CD buyers get a AmazonMP3 store song credit, effectively lowering the price to .49. Whoa, Amazon's digital download version of "The E.N.D." is only .99, or four bucks less than iTunes. Apple charges .29 for each individual track, compared to 99 cents each from AmazonMP3.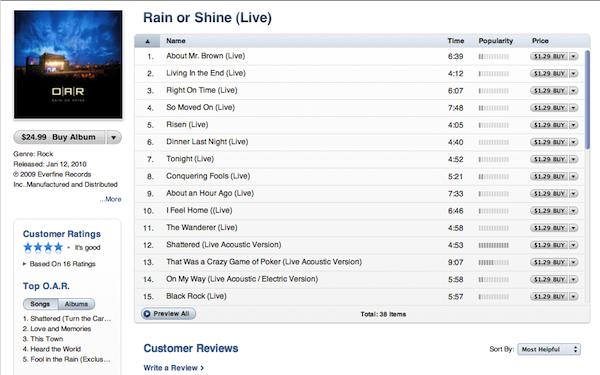 Deluxe version of Lady GaGa's "The Fame Monster" costs .99 at iTunes for 24 tracks. Amazon charges .99 for the 22-track CD or .99 for the digital download album. So iTunes is the sweeter deal, right? Maybe not. People buying the CD get a credit for AmazonMP3 store, effectively reducing cost of "Fame Monster" to .99 — two bucks and two tracks less than iTunes. Another cost difference: iTunes again charges .29 for each individually purchased track from "Fame Monster," and the two additional tracks are only available with the album purchase. By comparison, AmazonMP3 charges 99 cents a track.
Owl City album "Ocean Eyes" is .99 from iTunes with two additional tracks available only with the album version. Amazon charges the same price for the 12-track CD, but the AmazonMP3 store credit effectively reduces the price to .99. However, AmazonMP3 charges even less, only 6 bucks for digital download version of "Ocean Eyes." Once again, Apple charges a buck twenty-nine for individual tracks compared to AmazonMP3's more appealing 99 cents.
Apple's music pricing isn't all bad. Ke$ha's "Animal" is .99 from iTunes or AmazonMP3, and both digital download stores charge .29 for each individual track. Amazon sells the CD for .99. However, Amazon offers digital download credit for "Animal," effectively lowering the price to .99.
Pay More, Pay Less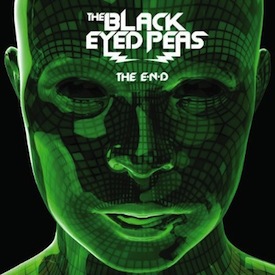 I've long observed that Apple justifies charging more by offering a little more — and sometimes less than competing stores. It's Marketing 101 stuff. For example, OneRepublic's "Waking Up (Deluxe Version)" is .99 from iTunes for 15 tracks (the standard album has 11 songs). Amazon and F.Y.E. don't offer this version of the CD, which Amazon partners sell for .99 or more. So, iTunes is the cheaper option. However, Amazon sells the "Waking Up" non-deluxe CD for .99, or less than iTunes. Once again, Amazon's song credit applies, effectively reducing the album's cost to .99. Amazon's digital download version costs , with 12th track "Mercy," which isn't available from iTunes. Once again, Apple charges .29 for each individual track and Amazon just 99 cents. So the standard album or singles cost more from iTunes.
In comments, someone is sure to assert that Amazon tax and shipping raises CD-to-digital download pricing in Apple's favor. Amazon doesn't charge tax in most states and offers a free 3-to-5 day shipping option. However, Amazon's Prime service, which costs a year, provides free two-day shipping or one-day shipping for an extra .99 per item. Prime can be shared with four separate accounts, so if you've got roomies or family members the annual fee is effectively less. I love Prime.
There's no point paying Apple more when there are cheaper alternatives. I regularly buy songs from iTunes store, but typically find better prices — and more aggressive daily deals — from AmazonMP3. But following today's surprising cost comparison for "Rain or Shine," I'll consider more CDs compared to digital albums, particularly those sold by iTunes. I ordered the new O.A.R. CD from Amazon while writing this post but before checking F.Y.E. pricing. Even .99 was too much to pay, although that credit helps soften the extra paid to Amazon over F.Y.E.
Should you pay more?