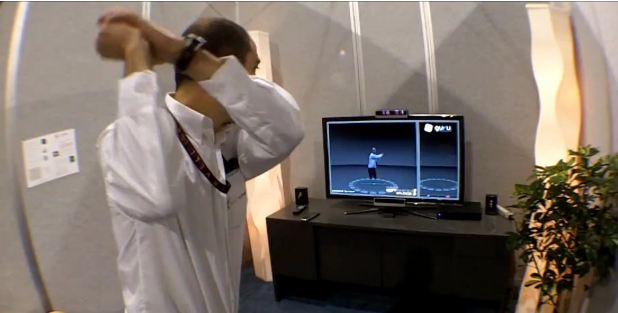 In an interview with the BBC, Microsoft CEO Steve Ballmer said the Kinect motion control interface released in 2010 for the Xbox 360 will be coming to PCs "in the right time."
But Belgian middleware company SoftKinetic might just beat Microsoft to the punch with its own white-label gesture interface for Atom-based PCs and set-top boxes.
SoftKinetic, who launched a content partner program for its stereoscopic gesture-based platform called iisu last month, gave us a look at their product so far at CES 201.
The company is developing the entire stack for manufacturers who want to offer their own Kinect-like experience on PCs and set-top boxes, from the software to the UI. SoftKinetic is manufacturing a camera as well, but its software and UI will be compatible with any depth-sensing camera, including Microsoft's Kinect.
In the demonstration the company gave me, they were using an Intel Atom-based PC with one of their own 3D cameras. The demonstration included some rudimentary games, a media player interface, a general content management system and more. In the video below, the company demonstrates some of the more practical aspects of the package, including background isolation, which essentially is "greenscreening" that can be performed without the green screen, a zero-click text input system, and an adaptive UI that recognizes gestures as subtle as a wrist flick.
After I grabbed this video with SoftKinetic, I ran over and had a meeting with Microsoft's Mediaroom group, who touted Kinect as a real breeding ground for unique interaction with broadcast television media and our TVs in general. LIkewise, a large number of other companies were showing off their contributions to the motion controller field, like Omek which concentrates on gesture recognition, and Aiken Labs and PrimeSense, both of which concentrate on the motion sensors themselves. The interface's potential is widely recognized.
It's funny, they hype surrounding 3D displays has been significant at the Consumer Electronics Show both this year and last, but CEA president Gary Shapiro himself has even dismissed the ability to watch TV and movies in three dimensions as simply a feature.
It seems the real future of 3D and our TVs might be in the cameras mounted atop our sets pointing back at us.