Chipmaker Marvell today debuted a new processor in its Armada family, designed for plug computing, for home, small business and industrial automation, and applications demanding ultra low power consumption.
The Armada 310 system-on-a-chip is built with an ARMv5 processor between 500 MHz and 1 GHz that consumes less than 1 watt of power. Fixed on a 15 x 15mm FCBGA (Flip Chip Ball Grid Array), the Armada 310 offers tons of I/O options, such as two Gigabit Ethernet MACs, two SATA 2.0 ports, two PCIe ports, USB 2.0, and DDR2/3.
Early last year, Marvell debuted its Plug Computing initiative with the release of its SheevaPlug development platform. The idea behind the initiative is that low-cost, low-power CPUs can be embedded all over the place to help manage and connect devices with each other. Marvell's SheevaPlug wiki describes the plug computer as "a cross between an embedded platform, typically found in smaller devices like mobile phones, and larger notebook computer."
A popular consumer solution that works with Marvell's design is the Pogoplug, a tiny server that connects to any USB storage device and makes their contents available on the Web. The little pink box can do this with just 5 watts of power.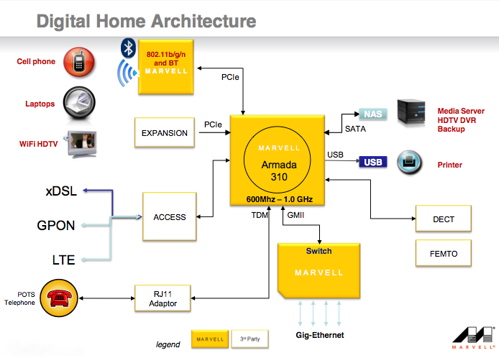 But now, the Armada 310 can do this sort of computing with just a single watt of power, and though it's ideally suited for plug computers, it can be employed in any number of smaller form factors, such as routers, microservers, dongles, PC cards, industrial, and medical systems.
"By integrating extensive connectivity capabilities into a highly scalable ARM-based SoC, the ARMADA 310 offers designers the opportunity to create small-form factor, high-performance, devices that easily link to other systems and outside networks," Tony Massimini, Chief of Technology at Semico Research Corp., said in a statement.
The Armada 310 system on a chip is selling to manufacturers right now for less than when purchased in bulk quantities. Marvell told us that we will begin to see solutions running on the chip in the second half of this year.