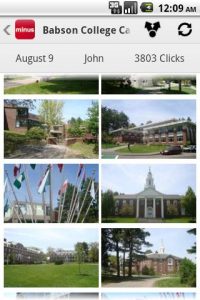 There are plenty of free online storage providers around, but most provide only one or two gigabytes of space in their basic accounts: not much, by modern standards.
Minus stands out, though, by offering a whole 10GB, free of charge. The service supports files up to 2GB in size; these can be private, shared individually through links, or entirely open to public view; and there are no transfer limits, very useful if you've large files you'd like to distribute and you're worried about potential bandwidth costs. And these are just some of the plus points of the Minus service.
When you sign up, for instance, the company doesn't require you to complete lengthy forms. You don't even have to provide your email address, if you'd rather not. Just choose a user name and password, and you're ready to go. You can then use the service directly from your browser, or via clients for Windows, Linux, the Mac,iPhone and Android, which essentially allow you to upload your chosen files with drag-and-drop simplicity.
A social networking element allows you to follow others, or have others follow you, which means they'll be notified of new public uploads as you make them. So a lecturer, say, could regularly upload their notes, and any students following would immediately see and be able to download the documents from their own Minus account.
And there are one or two surprising extras. The desktop client includes a screen grab tool, for instance: press your preferred hotkey, choose what you want to capture, and Minus will grab the image and upload it to your account, entirely automatically.
What you don't get here are any smart Dropbox-type synchronization features, or Wuala-esque versioning or encryption. The clients aren't particularly configurable; you can't limit their use of bandwidth, for instance. And yet despite this relative simplicity, the Windows client at least is a little on the bulky side, requiring around 60MB of RAM on our test PC (Dropbox, even mid-sync, was more like 48MB).
There's also no option to purchase more space. You can gain an extra 1GB for every new user you persuade to sign up, but if you just want 50GB right now then there's no way to make that happen.
And while Minus has an API, it's a new service and so has nothing like the support of the more established competition. Their Tools page talks of "many applications integrating the Minus API", for example, yet lists only one, a straightforward utility for sharing files from the Windows context menu.
Minus isn't going to replace Dropbox or Wuala any time soon, then. But if you just want a fair amount of online storage space, at no charge at all, then its easy sign up, straightforward operation and good range of clients will be hard to beat. And if that's not quite enough, check back in a few months: the service is still new, but it's developing rapidly, there's a powerful API, and we've no doubt that other Minus tools and features will be appearing very soon.