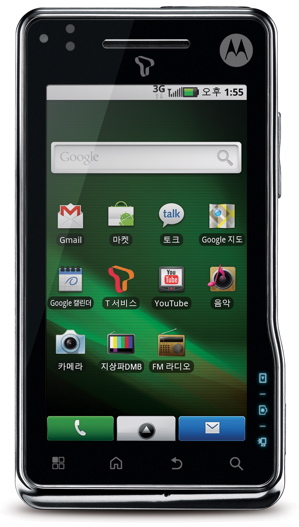 Motorola CEO Sanjay Jha said "the majority" of the company's phones would incorporate a multi-touch interface moving forward, and as long as they're being released everywhere except the U.S., that statement will surely prove true. Today, Motorola announced its second Android-powered handset which supports the feature, called MotoROI.
Because the device is destined for South Korea, where market demands are different –and those pesky intellectual property agreements do not apply– MotoROI includes: Terrestrial DMB, the Korean peninsula's popular freeview mobile DTV standard, 720p HD video capture with HDMI output, and an 8 megapixel camera with panorama, face detection, OCR, multi-shot (6 shots in a row), face filter, red eye reduction, and automatic image stabilization. Like the Verizon Droid's European counterpart, the Milestone, MotoROI features out-of-the-box multi-touch support, including the venerated pinch zoom action.
MotoROI will be available through SK Telecom in February, and today's announcement did not hint at its release in other countries, however the device has been seen in China under the name XT701.