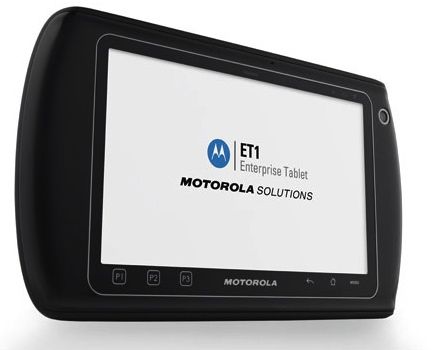 Motorola Solutions on Monday debuted the ET1, the company's first attempt at an Android tablet specifically for use in retail solutions such as point of sale, planogram management and compliance, item location, and general retail manager assistance.
The tablet has a 7″ (1024 x 600) display with Corning's Gorilla Glass covering the LCD, a dual-core 1GHz processor, 1GB of RAM, 4GB of onboard flash memory and support for microSD up to 32GB. It has a barcode scanner, credit card reader, front and rear cameras, a hot-swappable battery pack with 15-minute RAM backup when the main battery is removed, and the whole thing runs an "enterprise-ready, hardened" version of Android 2.3.4


For Motorola, there are a couple of reasons why this is a big product. The company's handheld computer class of devices (which it describes as being "designed for retail, public agencies, logistics and mobile fleets…") has been dominated by Windows Mobile and Windows CE for a long time, so the introduction of Android in this space is especially noteworthy.
However, even though the ET1 is designed for retail, Motorola Solutions isn't putting the tablet in its Handheld Computer product lineup. Instead, it has put it in a new category of its own, appropriately named "tablets," where it is currently the only one the company offers.
So even though ET1 could easily be classified as a retail handheld computer, it has opened up a new space in Motorola Solutions' catalog thanks to its touch interface and operating system.