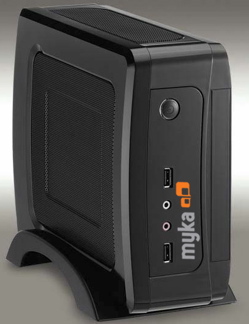 Early in the summer, IPTV startup Myka delivered an impressive Linux-based device which was not quite a set-top box and not quite a home theater PC (HTPC). Though the device's identity was sort of nebulous, the company's goal was crystal clear: to easily make the tons of different types of Internet video content viewable on the TV.
This week, the company has announced its second device, the Myka ION, which pushes itself up against the HTPC category. Because it's equipped with a 1.6 GHz dual core Intel Atom 330 CPU, it could even be called a "net-top box."
Whatever you want to call it, Myka is really charging toward its goal of making the vast spectrum of Web video available in an easy and compact way. Since the ION is effectively an Ubuntu 9.10 mini ITX PC, it can run popular media manager software Boxee and XMBC alongside the Hulu desktop client — a bit of useful software which neither Boxee nor XMBC can actually run themselves.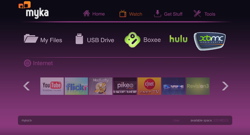 In case the name didn't already give it away, the Myka ION is equipped with an Nvidia ION GPU which supports DirectX 10 graphics, and full 1080p HD video without overtaxing the CPUs.
The company expects it to be shipping in about four weeks, and it will be available in various configurations, with different capacity hard drive sizes (up to 1 TB) and with additional options like a Blu-ray drive, and 802.11n wireless.
We'll give it a closer look when it becomes available before the holidays.