There is no shortage of file sharing services out there, and most offer a free tier that lets users upload and download very limited quantities of data, followed by a couple of subscription tiers for users interested in sharing more data. Typically, the first level of these subscription services runs per month and charges work their way up from there.
Gygan, a new file sharing service recently launched in public beta, is challenging services like RapidShare, Megaupload, Dropbox, and YouSendIt by offering fewer limitations on sharing and hosting, and a cheaper point of entry to their subscription tiers.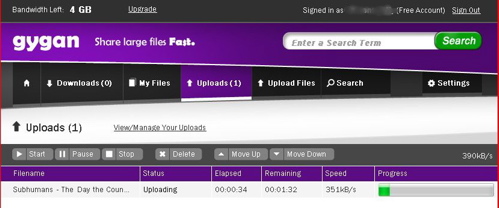 Users download the Gygan desktop client, set up an account, and can begin uploading the content they wish to share. Through a very simple interface, users drag the content they want to share to their Gygan account, and when the files have finished uploading, they can then share the content as a URL.
All file types and sizes are supported, uploading is free, transfer speeds are unlimited (unlike services such as rapidshare or megaupload) your storage per account is unlimited.
If, for example, you're a film student, and you have to share a massive video project file with people you collaborate with, you can just email your partners a link to your Gygan account. Any files you upload can be made publicly searchable or private.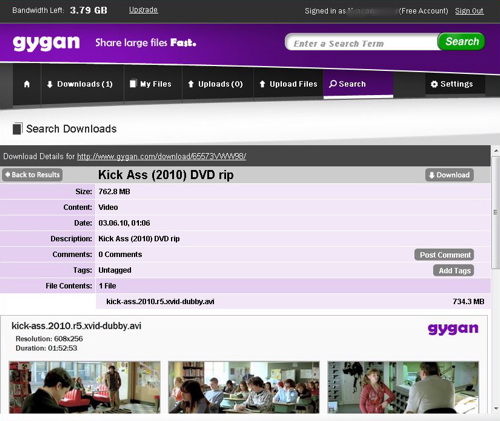 "A lot of file sharing services on the market have peak times and incent their users to upload and download during the off-times," Vitaly Petritchkovitch, CEO of Gygan said in a statement today. "That's the simplistic beauty of Gygan — you don't have to wait for peak times to be over. Tens of thousands of users can all access the network simultaneously, at any time, with no slow-downs."
The service is really monetized by downloading. With any account you can upload as much as you want with files of any size, but if you have a free trial account, you are limited to 4GB of downloading per month. 15GB worth of downloads costs .95 per month, 40GB of downloads costs .95 per month, and 200GB of downloads costs .95 per month.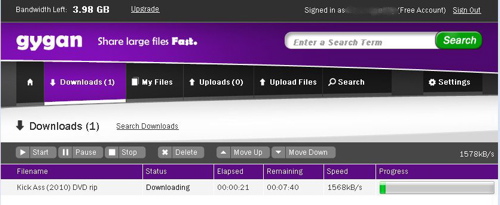 Other services limit usage quite differently. Megaupload, for example has a free tier with 500MB max upload size per file, and a 45 second wait per download, rife with advertisements.
The "members" tier bumps up to a 2GB max upload size, with a 25 second wait, and a bit less advertisement. "Premium" is .99 per month for "unlimited storage, speed, bandwidth."
Rapidshare's free accounts have a 200MB per file upload cap, and users can have a maximum of 10,000 files. YouSendIt limits their free users to 100MB files, and their .99 per month tier can support files up to 2GB in size.
Dropbox limits free accounts to 2GB of space in total, 50GB of space for the .99 monthly subscription, and 100GB for .99 per month subscription.
The Gygan desktop filesharing client can be downloaded here.

Dropbox – Filesharing – Uploading and downloading – RapidShare – Betanews