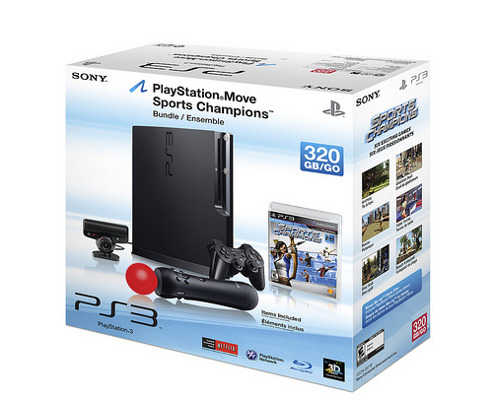 At Gamescom, the annual video game tradeshow in Cologne, Germany, Sony Computer Entertainment unveiled a new PlayStation 3 bundle that includes not only the new PlayStation Move motion controller, but also the Playstation 3 with the largest hard drive ever.
In conjunction with the launch of Sony's PlayStation Move motion controller, the new 320GB PlayStation 3 slim will launch on September 19 for 9.99, and will include the PlayStation Move motion controller, PlayStation Eye camera, and a motion-based game entitled Sports Champions.
PlayStation Move launches on September 17, and will be sold as a bundle that includes the Move controller and the PlayStation Eye camera, or simply as the controller by itself for .99.
By comparison, Microsoft's Motion-based controller Kinect is expected to launch on November 4 in North America, and will come with a 4GB Xbox 360, the Kinect motion sensor, and a traditional controller for 9. In early August, a Kinect box mockup mentioning a 250GB Xbox 360 pack was spotted, but no announcements have been made regarding its release.
At present, the PlayStation 3 Move bundle constitutes the largest off-the-shelf hard drive in a home video game console.

Playstation 3 – Microsoft – Video game – Sony Computer Entertainment – Gamescom