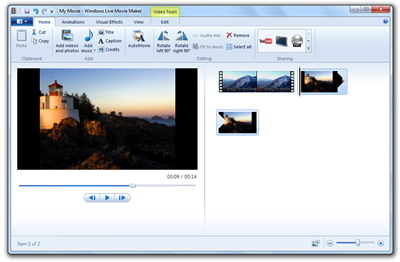 The Windows Live team announced this afternoon that Windows Live Movie Maker, the free video editing software component of Windows Live Essentials has come out of beta and is available for download.
Windows Live Movie Maker opened in beta last year, and has been designed to provide a quick and easy method of cutting video clips rather than a full editing suite.
"I recently used Windows Live Movie Maker to create a movie out of 50 photos, three video clips, and a music soundtrack in 30 seconds using the AutoMovie feature in Windows Live Movie Maker. I couldn't have done that in iMovie — it doesn't have a feature for combining photos, videos and music in one automatic step," said Brian Hall of the Windows Live Team.
The latest version of the software includes support for high definition up to 1080p, more than 60 transitions, 18 pan and zoom options, and 20 visual effects to apply to photos as videos, far more than were included in the early beta builds. Files can be saved, burned to DVD or directly uploaded to YouTube.
In a blog post today, Brian Hall announced that the software will not support Windows XP: "Change isn't always easy, and I know there have been some growing pains as we've moved from Windows Movie Maker to Windows Live Movie Maker. I want to address one thing we think you might be concerned about — OS support…In order to take advantage of the latest and greatest technologies available on the Windows platform, we optimized the new Windows Live Movie Maker for Windows Vista and Windows 7. As a result you get support for newer file formats like HD, a new graphics driver model which brings more reliable and stable support for high-end graphics, and a new engine on top of DirectX, which improves speed and enables even more advanced capabilities over time. If you're still using Windows XP, Windows Movie Maker 2.1 for Windows XP is still a great option."