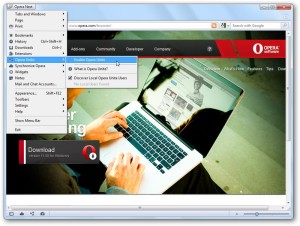 The Next branch of Opera's development has been updated to build 1090, with a number of interesting changes that see alterations to the skin's appearance and improvements made to the plugin installation process. Of course, there is also the usual swathe of bug fixes and performance enhancements, and despite the fact that this is a fairly early glimpse of the next version of the browser, it already seems surprisingly stable and polished.
There are a number of changes that can be summed up as polishing — icons and buttons have been updated as has the badge graphic. The overall size of the skin has been reduced in terms of file size, and the padding around some screen elements has been adjusted to improve alignment.
Problems stemming from Opera's automatic updating have also been addressed, helping to avoid issues that crop up after updating. The plugin installation wizard has been tweaked so it is now possible to hide the plugin installer progress window, and crashes that occurred in previous builds have also been fixed.
Opera Next is available for Mac, Windows and Linux is shaping up well and the accelerated development cycle is comparable to that of Firefox. Across all platforms there are minor yet noticeable changes including tweaks to colorization in Windows and Linux to better match the color schemes of the two operating systems.
While this build is generally stable, it should be remembered that it is still only a development version. You can find out more and download a copy of the browser by paying a visit to the Opera Next review page.