By Mike Williams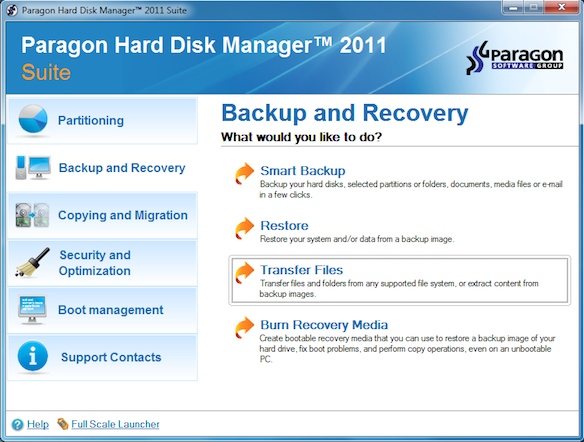 Keeping your hard drive in order is a complex business, and one that normally requires an entire library of utilities and applications. There is a simpler alternative: you could just install Paragon Hard Disk Manager 2011 Suite. The program can create, format, delete or undelete, resize or merge your chosen partitions, for instance. A straightforward set of backup tools allow you to do everything from back up your emails or chosen files, to copy individual partitions or clone an entire hard drive.
Other modules help with migrating to a new hard drive; installing and managing multiple operating systems on one system; securely wiping a drive to remove confidential information; or defragmenting your files to maximise performance.
There are Linux and Windows PE 3.0-based bootable recovery discs, for restoring a previous backup if Windows refuses to start.  Or, if you don't have a recent backup, then they're also able to fix some boot problems that Windows Startup Repair tool won't address, potentially a very valuable feature that could justify the purchase price, all on its own.
Ease of use
There's no shortage of drive management power on offer here, then. But Paragon do their best to minimise any complexity.
When you first launch Hard Disk Manager 2011 Suite, for instance, you're presented with a simple "Express Mode" menu that organises the program's functions into categories, like "Partitioning", "Backup and Recovery" and "Security and Optimization."  If you're a newcomer to Paragon's applications then this will help you find your way around.  (And if you're not, you can alternatively launch the full program with a click, and have full access to all its most advanced features.)
Once you've chosen an option then the program will display a wizard to walk you through the process. We found these to be generally well-designed, clearly explaining each step involved.  And they won't make any changes to the drive until you explicitly give permission (so you won't find you've accidentally deleted something important by clicking "Next" once too often).
If you're a total beginner to hard drive technologies then this may not be quite enough. The Help file doesn't explain much about partition types, for instance, so if you're unsure what "primary" or "extended" partitions are now, then Hard Disk Manager 2011 Suite won't do much to assist.
For the most part, though, Hard Disk Manager 2011 Suite does a good job of ensuring that you can organise your drives to best suit your needs, with the absolute minimum of risk to your data.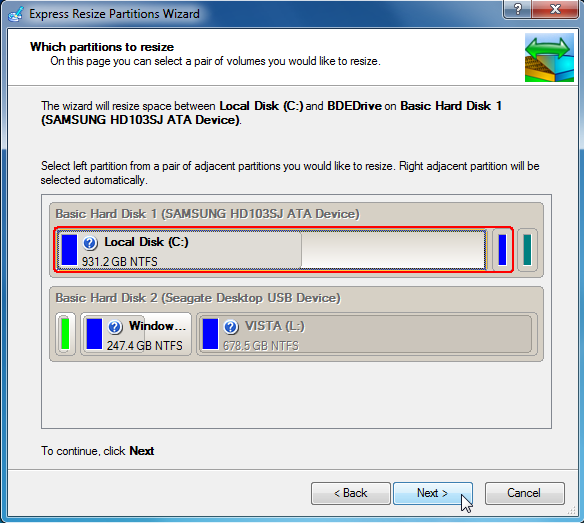 New features
This isn't the most revolutionary of updates for Hard Disk Manager; it's not so much about taking a giant leap forward, as a few gentle steps.  Still, if you take the time to explore the menus then you'll find there are plenty of worthwhile improvements.
A new "Migrate OS to SSD" option will help you move your Windows installation from a standard hard drive to a faster SSD, for instance.  Your SSD is too small?  No problem: the "Migrate OS to SSD" wizard allows you to select folders that won't be transferred — your downloads, pictures, videos, whatever you like — hopefully freeing up enough space to make the migration possible.
The "P2P Adjust OS Wizard" now does a better job of preparing a drive taken from one PC, for installation on another. So for instance it will locate and install more of the drivers you need, giving the system a better chance of booting normally.
There's a new option to convert regular MBR drives to the GPT standard, offering many benefits (the maximum partition size rises from 2 terabytes to 18 exabytes, and the partition table is duplicated for extra reliability).  You do need to treat this with care, though, as GPT drives won't be bootable unless you have 64-bit Windows and an EFI-based PC, which isn't fully explained within the program.
Perhaps more generally useful are the File System Integrity and Data Loss Protection settings.  If you're looking for safety then these let you enable technologies that will protect your data, even if your PC loses power during a partitioning process.  If your PC has a UPS then you can turn these off for maximum performance.  Or you can use a setting somewhere between the two: it's your call.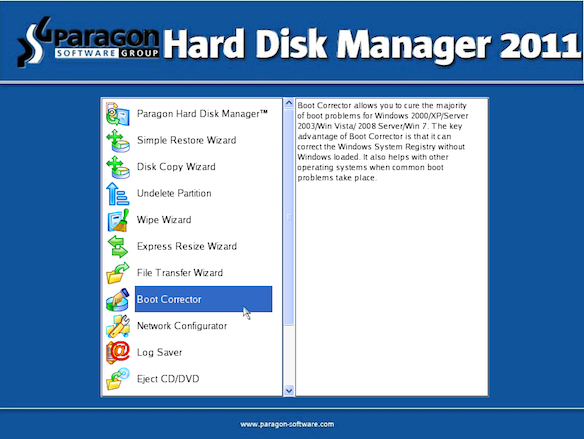 And a host of less visible improvements include an enhanced Windows PE boot disc, new exFAT support, and better support for 64-bit systems and HFS+ drives.
Observations
Paragon Hard Disk Manager 2011 Suite is an excellent package, with a clear interface that's generally very easy to use.  Our experience with this and previous versions is that it's extremely reliable.  And compatibility is also good, with the program supporting all main hard drive types and just about every file system (NTFS, FAT16/32, exFAT, Ext2/3/4FS, ReiserFS, Linux Swap, HPFS, HFS+).
Whether it's worth the upgrade cost, if you have the 2010 edition, is more open to question.  If you can use extras like GPT, exFAT, or the enhanced 64-bit and HFS+ support, then we'd say you'll appreciate the new version; but if you're happy with an older version then there's probably not enough here to justify the update.
If you're new to the program and looking for some drive management tools, though, Paragon Hard Disk Manager 2011 Suite is definitely worth a closer look. The backup tools are a little basic, but strong partitioning, defrag and disaster recovery tools more than make up for this. And if you're the technical type then you'll appreciate the lengthy list of geeky extras, like the ability to view and edit your drive at the sector level. Take the trial for a spin and find out for yourself.
Don't forget that, powerful though Hard Disk Manager 2011 Suite is, there's an even more comprehensive version available in Hard Disk Manager Professional.  The main additions here are business-oriented, like the ability to back up, restore, format and generally work with dynamic volumes, as well as support for connecting to virtual machines.  Extras like the ability to make incremental copies of a partition, or back up multiple volumes at the same time, will appeal to everyone, though: if these features appeal, and you don't mind the extra cost, then program should definitely be on your drive management shortlist.
Manufacturer: Paragon Software
MSRP: $49.95
Platforms: Windows 2000 Professional SP4/ XP/ Vista (32/ 64-bit)/ 7 (32/ 64-bit)
Requirements: 390MB hard drive space