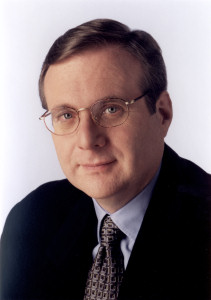 Microsoft co-founder and former executive Paul Allen filed a suit against 11 tech companies on Friday, accusing them of infringement over patents he acquired from the now defunct Internal Research. While Allen had invested in the company, he never participated in the development of the patented technologies.
When Internal Research closed its doors in 2000, the rights to the patents were transferred to Interval Licensing, a company Allen owns. The technologies cover four patents — the most notable being the 6,263,507 and 6,757,682 patents — relating to various web technologies. The companies named in the lawsuit are AOL, Apple, eBay, Facebook, Google, Netflix, Office Depot, OfficeMax, Staples, Yahoo and Google's YouTube.
Allen founded Microsoft with Bill Gates in 1975, and left the company in 1983 after being diagnosed with Hodgkin's Disease. He helped found Internal Research in 1992, and ended up investing about 0 million of his own personal fortune in the firm's work.
The '507 patent is titled "Browser for use in navigating a body of information, with particular application to browsing information represented by audiovisual data," and appears to cover visual methods for accessing news content. All defendants save for Facebook are accused of violating this patent.
The '682 patent — which all defendants are accused of infringing — is titled "Alerting users to items of current interest." This patent describes a method for alerting users in real time of items that they may be interested in.
Two other patents named in the complaint cover "attention managers" which serve to get the attention of the user on a display device.
A spokesperson for Mr. Allen, David Postman, told PC Magazine Friday that "the technologies in the patents are fundamental to the ways that leading e-commerce and search companies operate today." The suit asks for an unspecified amount in compensatory damages.
AOL, Apple, Google and Yahoo are charged with four counts of patent infringement, and all other companies save Facebook accused of two counts. Allen's company has charged Facebook with a single count of patent infringement.
Both Google and Facebook have said Allen's suit is without merit. The remaining nine companies have so far not publicly commented on the suit. Several have policies of not commenting on current litigation, such as Apple.
In filing the suit, Allen's Interval Licensing becomes the latest patent-holding company to create problems for the technology sector. The most notable example of this was NTP in 2006, who successfully settled with BlackBerry maker RIM for 2.5 million.

Facebook – Apple – Microsoft – YouTube – Google