2010 was without a doubt the year of distracted driving legislation. Eleven U.S. states this year banned texting while driving, and a further eight states banned drivers from using handheld phones altogether.
In total, 30 of the 50 states now have local laws regarding mobile phone use.
My home state of Maryland was one of the eight to totally ban mobile phones for drivers; and though it is not a primary offense to use your phone while driving, police officers can still issue additional fines if they pull you over for another offense and you happen to be on the phone at the time.
Because of the spread of these laws, developments in hands-free interfaces have also been spreading quickly, and consumers are being presented with a growing number of choices for sophisticated hands-free controls for navigation, communication, and entertainment systems.
At CTIA last March, I took a look at Dial2Do a cross-platform handsfree assistant for sending texts and interacting with feed services.
In September, telecommunications hardware maker Plantronics launched Vocalyst, a smartphone voice command service which is actually based upon Dial2Do that comes with its own dedicated bluetooth headsets.
Now that my hometown is a market of primary interest for these kinds of services, I gave one of Plantronics' Vocalyst headsets a spin.
The Headset: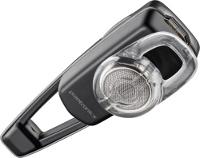 At the end of the day, Bluetooth headsets are just human interface devices like keyboards and mice, so their value comes down to how accurately they work, and how well they fit with the user's body. That said, the Plantronics Savor is both accurate and comfortable. It is small, lightweight and unintrusive while still managing to fit in three microphones, two action buttons, a power switch, volume rocker and micro USB port. To issue one of the handful of built-in voice commands ("what can I say," "pairing mode," "battery," "answer," "ignore," and "call vocalyst,") simply tap the main button and speak. The majority of the voice commands come when you're connected to the Vocalyst service, and at full charge, you get around three hours of continuous talk time with the Savor.
Audio Quality:
Plantronics markets its headsets as being able to provide natural-sounding calls that have their volume automatically adjusted based upon the background noise, the company calls this feature "WindSmart," and I put it to a test. Here's how it sounds under the three common conditions: wind, loud background noise (consistent), and loud background noise (sporadic.)
The Vocalyst service:
The Plantronics savor comes with one year free of the Vocalyst hands-free assistant service. Through this, users can check and compose emails, record voice reminders, listen to Twitter feed and post audio tweets, get weather, finance, news and sports updates, and record audio in Evernote. With the Vocalyst app on a BlackBerry or Android smartphone, incoming text messages are also read aloud as they arrive.
For an additional charge, users can update to Vocalyst Pro which includes the ability to record longer voice notes, transcribe voice into text and send text messages or post content to more than 20 third party services, such as WordPress, Tumblr, and Blogger.
It's a handy service, but the main problem involved with it is that when you're connected, the Plantronics headset does not mute the line, but the Vocalyst service does. So if you issue a command, such as "listen to my email," any background noise will interrupt the service reading your email to you and say "Sorry, I didn't understand that." After this happens a few times, the service stops listening to your line, and you lose control of it entirely. It's a pretty severe flaw when considering the noises that go on while driving.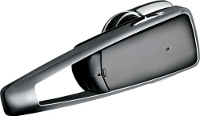 The Bottom Line
For Bluetooth headset users, the Savor is worth a look. It's small, stylish, affordable, and has the bonus Vocalyst integration and one year of free service.
Of course, Bluetooth headsets are a niche category, and people who do not already use them are not very likely to just pick one up and start unless there's a real reason to do so. Even though there is a growing legal basis for trying one out, ultimately, personal preference wins every time.