E-reader company Plastic Logic today officially announced the cancellation of the Que e-reader product it showed off at CES 2010 in favor of working on a more up-to-date second version.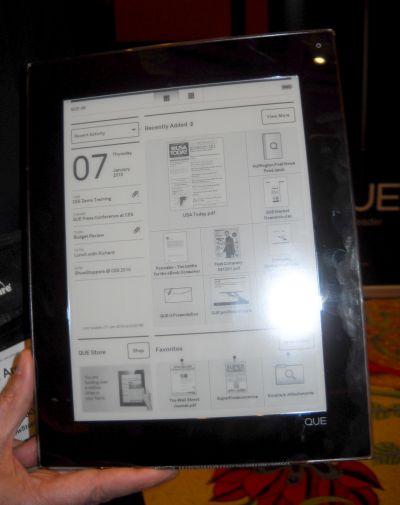 The company debuted its E-reader concept in 2006, and showed off the first working prototypes in 2008. Finally, by the time the Consumer Electronics Show rolled around in 2010, the company had a product that looked ready to go: an 8.5″ x 11″ touchscreen e-paper reader complete with AT&T 3G wireless and several content partnerships.
After a couple of delays in the Spring, the company cancelled all pre-orders for the device in June.
"We recognize the market has dramatically changed, and with the product delays we have experienced, it no longer make sense for us to move forward with our first generation electronic reading product," said Plastic Logic CEO Richard Archuleta in a statement Tuesday. "This was a hard decision, but is the best one for our company, our investors and our customers."
"We plan to take the necessary time needed to re-enter the market as we refocus, redesign and retool for our next generation ProReader product," Archuleta added. "We continue to perfect our core plastic electronic technology and manufacturing processes that are central to our product's unique value proposition."

Betanews – Consumer Electronics Show – Plastic Logic – Math – Logic and Foundations