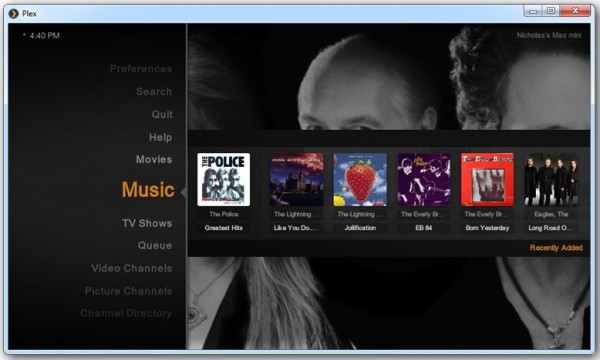 Plex, Inc has announced the release of version 0.9.5 of its freeware cross-platform media browsing suite. Now split into two distinct programs, Plex Media Server and Plex Media Center, as well as a mobile app for Android and iOS, Plex 0.9.5 introduces a number of new features as well as major changes behind the scenes.
One key new feature — the creation of a myPlex account — aims to make accessing your media content remotely over the internet a simpler task, while PC users can now access their media collections via the first Windows build of Plex Media Center.
Plex 0.9.5, codenamed 'Laika' as a tribute to both the Plex mascot and the first dog in space, is the first to feature separate client and server packages for Mac. Previously, the Mac release doubled as both server and client, which made for a hefty 100MB download on every Mac, regardless of whether or not it was running a media server.
The new separate builds both fully integrate the new myPlex feature, which aims to simplify the task of prepping a Plex media server for access outside of a local network as well as allowing users to share and access shared content with other Plex media server libraries.
The client version can now either transcode or Direct Play remote media, including both Flash and Silverlight content. Browsing your media now reveals an "On Deck" area as well as "Recently Added", giving the user quick access to relevant content in each section, such as the next episode in a TV series being watched.
The Windows client, built from scratch by a dedicated team, also features integration with Windows Media Center, which basically allows you to launch the Plex Media Center from within Windows Media Center itself.
The server has also been updated, but most of these changes are bug fixes, performance tweaks and small feature additions such as the ability to filter movies by country or browse music collections. Notable enhancements include improved transcoding to resolve A/V sync issues and DTS distortion, as well as delivered improved playback via 3G networks.
Also updated is the mobile application, which costs $4.99 and runs on Android and iPhone, iPad and iPod touch. myPlex support is built-in for easier connection to home servers and improvements include alphabetized indexing for speeding up content navigation as well as support for photos and faster, more reliable server connections (as well as better caching over both 3G and wireless networks).
Plex Media Server is available as a freeware download for Windows, Mac and Linux. Plex Media Center is available for Windows and Mac users and is also freeware, while Plex 2.0 has been released for iOS and Android, and costs $4.99.