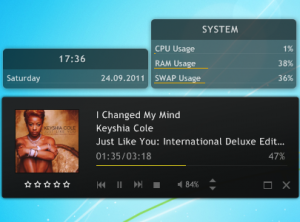 It has taken a while, but after months of beta testing, desktop customization tool Rainmeter 2.1 has finally been released — and it includes one of the most interesting new features for some time, in the "NowPlaying" plugin. You won't see this by default, at least not initially. Install the program and you'll be presented with the more usual monitoring tools, displaying date, time, CPU and RAM use, hard drive stats, RSS feeds and so on.
But install and configure an appropriate skin and you'll see a neat "Now Playing" console, which not only displays the details of whatever audio track you're playing right now, but also allows control to your player: you can stop, pause or restart a tune, rate it, step backwards and forwards through your tracks, toggle shuffle and repeat settings, adjust volume and more.
This is perfect if you're tired of your desktop being cluttered by a bulky, overweight media player, then. And better still, it works with just about everything. The new plugin fully supports AIMP, Foobar2000, iTunes, MediaMonkey, MusicBee, Winamp, VLC Media Player, and Windows Media Player.  And there's partial support for Last.fm, Media Player Classic, OpenPandora, Spotify, TTPlayer and Zune.
Elsewhere, Rainmeter 2.1 sees the start of a process which will see the program's many add-ons properly integrated in the interface, which should simplify setup and use. The development team have sensibly started with Rainmeter Manager: just right-click the Rainmeter system tray icon, select Manage, and you'll be able to view your skins, edit settings, tweak themes, create backups and more.
And a raft of additional optimizations across Rainmeter 2.1 have delivered fast launch times, memory savings and better performance all round, while the new ability to use Aero blur (where available) means your skins will look better than ever.