Two years ago, Lexar brought the Eye-Fi brand into the mainstream when it released 2GB SD cards endowed with Eye-Fi's 802.11b/g wireless connectivity. The capability turned any camera with an SD slot into one with Wi-FI. Since that time, Eye-Fi has grown its product line to include support for 802.11n, improved security features, improved capacities, and overall performance improvements.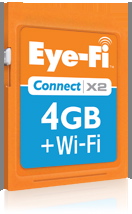 On Tuesday, Eye-Fi's new X2 series of wireless SD cards hit retail, bringing the 4GB Connect X2 (.99), 8GB Explore X2 (.99) and 8GB Pro X2 (9.99) to photographers across the country.
I'd been toying with the idea of pairing up an Eye-Fi camera with a MiFi portable hotspot for a sort of goofily-named dream team that could provide a constant connection for shooting tons of pictures that instantly piped up to the cloud. Since I was headed to Vegas for CTIA this week, and Eye-Fi was launching its new X2 series, I thought it was time to try it out with a 4G Sprint Overdrive.
So I've been walking the showfloor with a WiMAX hotspot in my backpack, and the Eye-Fi Connect X2 in my point-and-shoot Canon. Short of having a camera with a built-in mobile broadband module, this is the best way to shoot pictures. While I have been concentrating on getting exciting shots, Eye-Fi has quietly been uploading them to photography-sharing sites the second they're snapped. When I finally get to sit down in the press room, all the photos are up, sorted by date, and geotagged online, and when I connect my computer to a hotspot, the photos automatically download to my Eye-Fi desktop folder.
I stuck to sending all the photos to Picasa, but I could have chosen Flickr, Snapfish, Photobucket, Shutterfly, MobileMe, Fotki, Facebook, Whrrl, Evernote, Dotphoto, SmugMug, TypePad, or even to a custom FTP site. Eye-Fi offers 28 different destinations that your photos can be sent to. Additionally, it can send video to YouTube, Flickr, Facebook, Picasa, SmugMug and Photobucket.
The only troublesome aspect of the X2 was installing the software on my computers. I first tried it on a Vista PC, but it kept crashing it, and then I tried it on a Mac running the older 10.4 Mac OS, and it also did not want to work after half a dozen attempted installs. Eventually, however, it managed to get itself installed and has been running ever since.
Though the Eye-Fi helps heat up my camera very quickly, it has not had an appreciable effect on its battery life. In the three days I've been using it, I have not run out of battery any quicker than I would have if I was using a regular SD card. This will no doubt vary from camera to camera, and I intend to test it with other models to corroborate. Not all SD-supportive cameras are compatible with Eye-Fi SD cards.
And it doesn't require a mobile hotspot in your pocket for Eye-Fi to be useful on the go. Eye-Fi users have automatic free connectivity at 21,000 U.S. hotspots including Starbucks coffee shops and Harborlink hotspots such as BP gas stations.