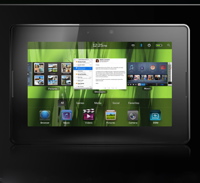 RIM's PlayBook will be introduced in the spring of next year and at a price point below 0, its co-CEO Jim Balsillie confirmed to several news outlets on Wednesday. It seems clear RIM intends to compete with Apple's iPad in one of tech's fastest growing sectors by pricing it close to the now top-selling tablet.
RIM's tablet plans surfaced in the first part of this year, when Betanews was able to confirm details on the device at that time through company sources. RIM itself unveiled the device in September, naming it the PlayBook.
Included in the device is a 1GHz dual-core processor, front and rear-facing cameras, HTML5 and Flash support, HD video support, and HD video output.
The first PlayBooks would only have Wi-Fi capabilities for Internet connectivity, although it said at launch 3G and 4G models would follow shortly afterwards. The device would run a tablet based OS, that while similar in its user interface, would not be developed by RIM but rather operating system developer and subsidiary QNX.
A US launch would be first to come in the first quarter of the year, Balsillie told the WSJ. International launches would come in the following quarter. One of the first international markets to see the PlayBook would be South Korea, which the co-CEO sees as "strategic" because of its consumer's appetites for high-tech products.
He declined to offer specifics on price or any carrier partners.
Balsillie seems to believe the PlayBook may be the company's savior in salvaging market share it has lost to Apple's iOS and Google's Android platforms. "We just finished our third quarter now…we will be pass them [Apple] and we will stay past them," he boasted.
More competition in the tablet space is likely a good thing for consumers. Analysts believe that prices for these devices will begin to fall in the coming months as competitive pressure forces manufacturers to differentiate themselves on price.