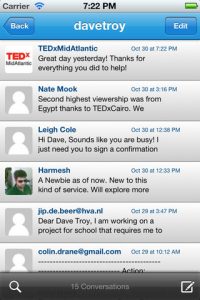 Shortmail is now available for iPhone, tapping into capabilities from iOS 5. The service brings Twitter concepts to email, limiting messages to 500 characters (It's 140 for Twitter). Startup 410Labs took the wraps off cloud service Shortmail in June. The iOS app debuted on November 16.
On the web, users can claim their shortmail address by logging into their Twitter account. "Using the Twitter integration in iOS 5 (which is required), we instantly convert your Twitter accounts into Shortmail accounts. No hassle, no signups, no passwords. It 'just works'", says 401Labs CEO Dave Troy.
Twitter account log-in/tie-in simplifies setup — "no IMAP, no special configuration required", Troy says. Unsurprisingly, Shortmail for iPhone uses iOS push to notify users of new messages.
Shortmail has been available on Android and iOS via the built-in email clients. Different now is the dedicated iOS app.
"Shortmail is all about communicating with people and puts each new message in its proper place", Troy says. "More like text messaging, less like email – still compatible with any email address!"
Shortmail for iOS is free and is available in 16 languages: English, Bokmål, Norwegian, Chinese, Dutch, Esperanto, French, German, Persian, Portuguese, Russian, Slovenian, Spanish, Swedish, Ukrainian and Vietnamese.