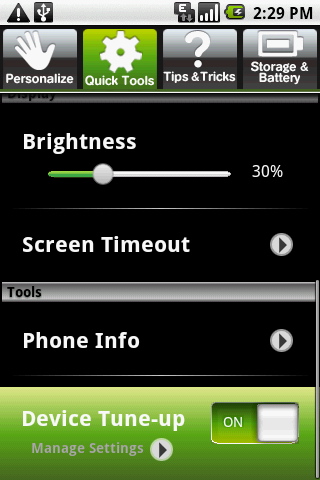 T-Mobile has begun the beta of a new function called "Device Tune-up" for Android devices running version 2.1 and below.
According to the wireless carrier, "Device Tune-up is built to run in the background at all times and 'tune-up' the device by closing unused services that are running. [It] is different from most task killers because it does not require you to do anything. Device Tune-up will default to 'on'.  While on, Device Tune-up proactively closes services to help the device and battery perform at their best. Most pre-loaded applications will not be affected by Device Tune-up. "
To run Device Tune-up, you must have My Account 3.3 installed, which can be downloaded from the Android Market. Then, allow installation of non-market applications (Settings > Applications > check the box "Unknown Sources") and download the beta .apk from this location and install it.
T-Mobile's forum for the beta can be found here.

Android – Betanews – Software release life cycle – Android Market – Handhelds