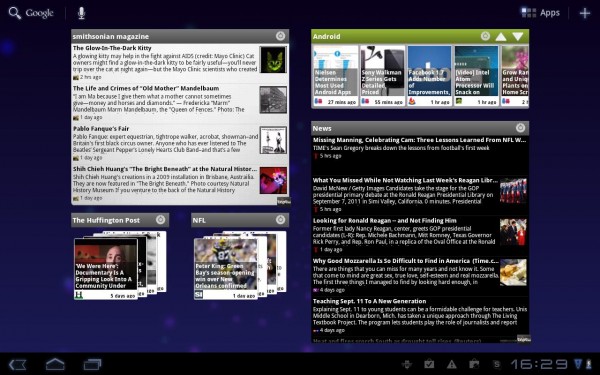 With a range of social networks to choose from, each with their own timeline or news feed available, coupled with blogs and news websites, many Internet users have a huge amount of information to wade through each day. If you don't fancy the idea of visiting each of your preferred news websites and blogs individually, or cluttering up your phone or tablet's home screen with endless social networking apps, Taptu may be of interest as it makes it possible to access all of your social network and news feeds in one place.
You can quickly and easily add your Facebook account to the app so you can keep track of news that is posted in this way, as well as using the app to keep an eye on your timeline as it fills up with comments and pictures from your friends. Similarly, you can add your Twitter account to make it easy to keep up to date with the tweets of everyone you follow from the same place.
There is also the option of importing news feed from Google Reader as well as browsing through stories selected by Taptu. So far, so so. But what makes Taptu interesting is the fact that it lets you create a mass-up of the information that you have chosen to access through the app to create a completely customized timeline that draws from multiple sources. If you are particularly happy with a customized feed you have created you can share it with others.
News stories and posts you discover through the app can be shared via Facebook and Twitter, or you can make use of Instapaper or Read It Later to keep a record of stories you would like to read at a later time. The interface is slick and good-looking, albeit a little slow at times, proving that style and content can live happily side by side.
You can find out more and download a copy of the app by paying a visit to the Taptu for iOS or Taptu for Android review pages.