Early this morning, Sony Ericsson took the wraps off of its first Android-based handset, the 1 GHz Snapdragon-powered Xperia X10. With a huge 4″ touchscreen, an 8.1 megapixel camera and the elegant custom user interface named "Rachael," Sony Ericsson moves the Android platform a step further by giving it almost no mention in announcements and commercials.
Sony Ericsson mentions the Android Market, and notes in the spec sheet that the operating system is Android Donut 1.6, but otherwise it does not ride the point, and strives to make the device stand out as a distinct product.
This is where Android is headed, and it's a good thing.
As anyone with a zealous interest in technology is sure to tell you, most people don't give a damn what version of which operating system their phone is running. They only care if it works and their signals are strong. So rather than try to start an "I'm an Android / I'm an iPhone" battle like Verizon did with its Motorola Droid "iDon't" advertising campaign, Sony Ericsson avoids even mentioning Android and the X10 in the same breath.
Instead, it gives its custom Android build its own name (UX Platform "built on top of the Open OS") and talks about the uniquely Sony Ericsson experience it can provide with it.
It's owning the Android experience, and in doing so, it's giving the user less to think about and more to drool over.
Like Motorola did with MotoBLUR, Sony Ericsson has developed a new face for its Android devices which attempts to closely integrate the user's mobile device with his various social networks and media sharing sites. Sony Ericsson calls the two applications Timescape and Mediascape, and we first had a glimpse of them back in January when a video runthrough of Rachael leaked. Timescape takes all communications with another person — be they through SMS, voice calls, e-mails, IMs, or social network wall postings — and ties them with that person's contact information in your phone. If you hit the "infinite" button, you can pull up a chronological view of a contact's online activity, something like an in-phone Friendfeed.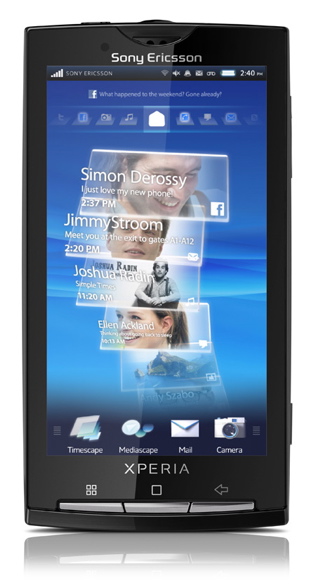 Mediascape is a highly visual media manager which integrates content stored on the phone with content on media Web sites. If you are listening to music, for example, pressing the "Infinite" button here would pull up relevant and related online content such as artist information, videos, downloads, and so forth.
As Sony Ericsson's Head of Application Planning, Erika Kato Marcus, said in the joint venture's new blog, "It's about quick access to your music, videos and photos in one application…What we try to do…is to blur the boundaries between what is online and local."
One of the few areas where the X10 is similar to other Android devices is in application acquisition, as its primary app store is the Android Market. However, Sony Ericsson has put its stamp here as well, and includes PlayNow Arena into the mix for additional games, applications, themes, wallpaper, ringtones, and music.
Like the company's whole Xperia line, the X10 is a luxurious device. It has a 4″ (480 x 854) scratch resistant capacitive touchscreen, a 1 GHz Qualcomm Snapdragon (QSD8250) processor, 1 GB of onboard memory with 8 GB microSD included, quad-band GSM, UMTS, and HSPA 900/1700/2100, Bluetooth 2.1, Wi-Fi, and A-GPS. The camera is 8.1 megapixel with 16x digital zoom, geotagging and face recognition of up to five faces simultaneously.
Though the public's attention has been captured by the Motorola Droid and its aggressive advertising campaign, it's a move like this which makes big strides toward Android ubiquity.