Video games that are popular among kids sometimes get an unfortunate makeover into educational software, and while not all conversions result in terrible rip-offs, there have been a number of exceptionally bad action-to-educational conversions. Some examples that come to mind are Sega's zombie shooting game House of the Dead, which was mashed up into a typing tutor; and Nintendo's I am a Teacher: Super Mario Sweater, which turned a kid's Famicom into a textile design machine with the aid of the company's mustachioed mascot.
But certain types of games are instructional without being aggressively labeled as such, and have been teaching kids for the last few years. Music simulators such as Rock Band and Guitar Hero, for example, have helped many kids become proficient drummers before they're even enrolled in primary school.
Those games, which require the player to hit color-coded buttons on miniature guitar-shaped controllers or beat on stripped-down drum controllers, have been improving kids' rhythm, but have done nothing to help them with scales — another fundamental part of music.
Several software companies have attempted to take the Guitar Hero model and apply it to real guitars over the last few years, but most have not even made it to retail.
At CES last week, I was approached by a young guy in sunglasses and leather jacket, who is part of a software startup guerilla marketing its own real life Guitar Hero. Like the other versions of the same game concept, his software, tentatively called "Raw Talent Presents…Guitar," uses a USB interface to read input from an actual guitar.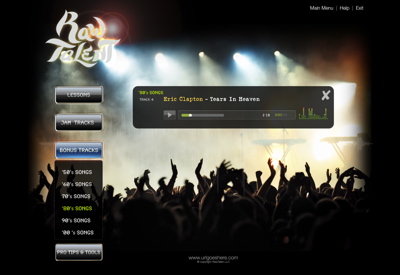 The user plays along to pre-recorded tracks of popular songs, and the software then evaluates the performance, and generates a score for everything from single-note runs to intermediate chord progressions.
The unique part of the software is Raw Talent Inc.'s proprietary "Real Time Performance" Engine, which provides live feedback on the user's performance and then generates a ranking at the end of the song, which corresponds with individual technique lessons.
Anticipating a Spring '10 release for the software, Raw Talent Inc. said it will be releasing its software in beta a little later this year. We'll see how close this one comes to Rock stardom in a software field that has thus far been limited to "indie" success.