By Scott M. Fulton, III, Betanews
---
Download Opera 10.5 "Pre-alpha" for Windows from Fileforum now.
---

How's this for a Christmas miracle: We've been saying that if Opera wants to get back in the game — if it truly wants to earn a place among the Top 5 positions on Europe's forthcoming "Choice Screen" — then it has to pick up the pace in the performance department. Apparently while we were writing that, the developers at Opera Software were a little ahead of us on that count.
It's rare that any company should release a product for the public's inspection under the guise of "pre-alpha," but what we expect it to mean for now is, "Don't use this as a browser yet." So we won't: For now, we won't consider the pre-alpha build of Opera 10.5 — leaked earlier this week, but officially released this morning — as a browser that is ready to be tested in real-world scenarios. Opera is testing yet another completely new chassis, one which borrows a few ideas from Google Chrome and a few others from its own Opera Mini and Opera Mobile products. And as we discovered for ourselves — not shockingly — it's not a complete product, quite capable of bizarre behavior. That's what the "pre-" means, apparently.
However…What's brewing under Opera's new hood is something astonishing: three replacement libraries including a new rendering engine and a new JavaScript engine. One wonders why they're not calling this "Opera 11."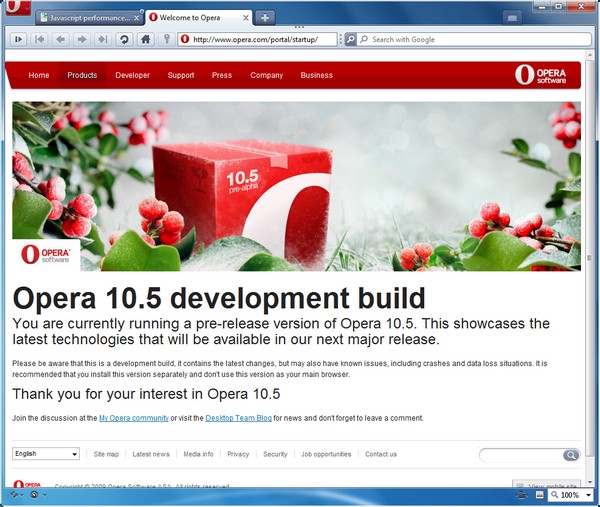 The new look of Opera 10.5 (if this is indeed representative of the first test build's appearance) is handsome. The menu bar has completely disappeared, having been absorbed into the "Big-Red-O" button in the upper left corner. Service windows such as Bookmarks, Downloads, and History are accessible from this button. You can bring the menu bar back from here, if you wish; if you do that, the "Big-Red-O" disappears.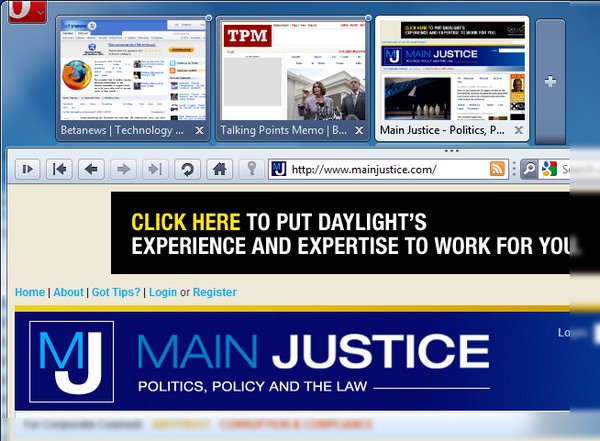 Tabs take over the top title bar, and the sliding thumbnail previews introduced in Opera 10 appear here too. You can also adjust the tab/thumbnails bar to appear along the left side, and in 10.5, the glassy background applies here as well for Windows 7. In our tests, playing around with the title/thumbnails area too much, crashes the browser. That's to be expected from this very early build. Opera Software is advising curious testers to use extreme caution: "Do not run in hydroelectric power plants."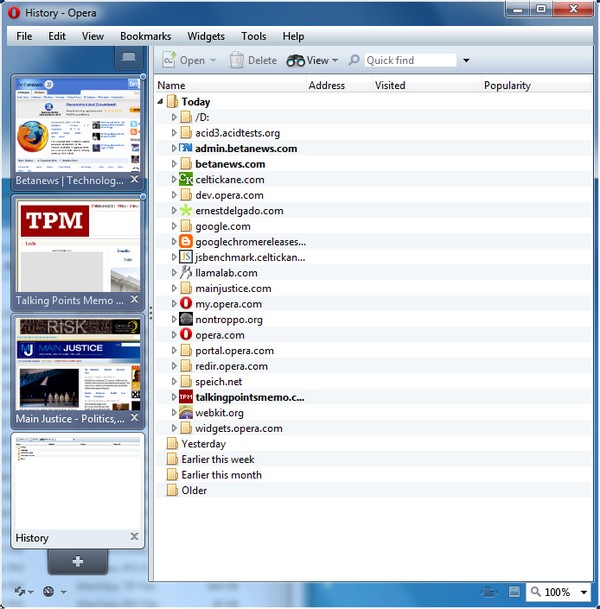 It's a handsome environment for the new browser, and if they get it working and clear up some of the loose ends, it could be a functional one as well. The original left-hand optional sidebar concept appears to be missing in this build, but in its place is a system where the user can create fully customizable toolbars, thus fulfilling the same purpose.
This is the level of customization and functionality that Google Chrome users have been aching for — the possibility of a lightning fast browser that runs in something other than a plain blue box. If Google doesn't watch out, Opera is going to answer Chrome's users with what they've been asking for all year.
Next: Opera's last-second Christmas present…
Download Opera 10.5 "Pre-alpha" for Mac OS X from Fileforum now.
---
Download Opera 10.5 "Pre-alpha" for Windows from Fileforum now.
---

In initial Betanews tests involving our Comprehensive Relative Performance Index suite on the Windows 7 platform today, this incomplete rendering of a browser — the latest version of a model that was in danger of becoming only half as fast as Mozilla Firefox — blew right past not only Firefox but Apple Safari as well. And yes, it beat Google's fastest Chrome development build browser, by a score that's something more like a touchdown than a field goal.
On our physical test machine running Windows 7, the Opera 10.5 pre-alpha scored a 24.52, meaning it delivered about 24-and-one-half times the overall JavaScript, rendering, and computational performance of Microsoft Internet Explorer 7 running in Windows Vista (the slowest browser on the slowest platform we test, which we index at 1.00).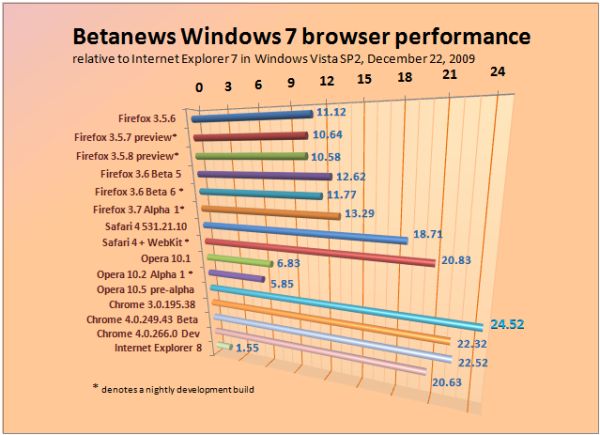 Let's put that number into perspective: Right now, the latest stable build of Opera 10.1 scores a 6.83 on the same complete test suite — 70 data points from 10 different benchmark batteries. The latest development build of Opera 10.2 actually trends downward, at 5.85. But those builds are using libraries that Opera Software apparently now publicly acknowledges to be obsolete. The latest stable Chrome browser, by comparison, scores a 22.32 in Windows 7; the fastest development build from Google is on the beta track (not the dev track), build 249.43, which scores 22.52 — an extremely impressive score, and a sign that Google is maintaining a positive trend.
But the Opera test build bested all of Chrome's scores…and it did so while performing relatively poorly in the rendering department. This is the truly scary part: Opera Software is developing a new browser chassis, which so far looks very attractive under Windows 7. It's leaner, but it's not too minimalistic, and it certainly pronounces its manufacturer boldly with a big red "O." The rendering engine under that chassis is not quite finished, rendering ordinary <TABLE> elements, for example, with only half the speed of stable Opera 10.1.
If the first official alpha of Opera 10.5 is able to fix these deficiencies even to the point where it performs on a par with its current stable build, then the new browser's overall performance interval over Chrome could end up being less like a touchdown, and more like a rout. Google, Apple, and Mozilla have reason for genuine fear at this point, as the company that first made browser performance a real issue, is about to make it an issue again.
The incomplete Opera 10.5 — were it to be a full-scale browser — would be the absolute champion of the SunSpider JavaScript test, blowing by the Chrome 4 beta with a score of 65.66 (total time expended: 598.4 ms on our test system). By comparison, Opera 10.1 scores a 7.75 (4685.8 ms). This morning, Opera's Roberto Mateu claimed the pre-alpha was seven times faster than stable Opera 10.1 in the SunSpider. If Mr. Spock were here, he'd offer a correction: In our tests, the pre-alpha build was 783% faster — nearly eight times.
For comparison purposes, the latest Chrome 4 beta scores a 59.45 in the SunSpider test on Windows 7; and the latest WebKit daily build applied to Safari 4 (which we can now declare a safe and reliable build for performance testing) scorea a 58.67 in SunSpider on Win7. The SunSpider test was developed by WebKit contributors.
Click here for a comprehensive explanation of the Betanews CRPI index version 2.2.
---
Opera's old computational engine was becoming something of a dog; the new one is a genuine contender, though not yet the champion. On the new JSBenchmark from Celtic Kane, the pre-alpha scored a 14.62 on Windows 7 versus an 18.85 for the latest WebKit daily build of Safari, and a 21.46 from the latest Google Chrome 4 dev build 266.0. But that gain is still very significant for Opera, coming from just 3.32 — compare that against Firefox 3.6 Beta 5's 7.27.
But where the Opera test build's performance is nothing short of phenomenal, even this early on, is in graphics rendering. Opera 10.1 was already strong here. But in rendering the moving 3D test cubes, the 10.5 pre-alpha destroyed all records, posting a 6.52 on Windows 7 versus 3.14 for Opera 10.1, and 2.87 for both the Chrome 4 beta build and the Safari + WebKit dev build. And where Opera 10.1 was weak — specifically, the Canvas object rendering test, using outlines of the mainland US and Alaska supplied by Yahoo — the 10.5 pre-alpha was spellbinding as well, posting a 63.97 score in Windows 7 versus the Safari + WebKit dev build score of 31.60, and the Chrome 4 beta build's score of 30.42.
All our performance tests for this article were on Windows 7 — we have yet to complete our scoring for Windows XP and Vista on the same test machine. XP has been known to be Chrome's "home turf," where Google racks up the biggest and best numbers (since XP was at one time the most installed OS on netbooks, where Google wants to make the biggest impact). If these same margins apply to the other two Windows platforms, then the moment Opera makes its release official, we may have a new runaway leader in the browser battle — the come-from-behind story of 2010.
Download Opera 10.5 "Pre-alpha" for Mac OS X from Fileforum now.
---