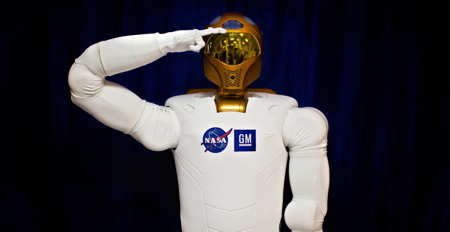 Next Monday, Robonaut 2 (R2) –GM and NASA's 300-pound humanoid-from-the-waist-up robot– will be blasted into space to begin his job aboard the International Space Station. Today, he was prepped and packed onto the space shuttle Discovery in Cape Canaveral, Florida.
R2 is the product of a collaboration between GM and NASA engineers, who have been working together since 2007. He is made up of a head, torso, two arms, and two hands, and will be a complement to Dextre, the robot built by the Canadian Space Agency that was first brought to the International Space Station in March 2008. While Dextre is meant to work in space, R2's job will be to work alongside humans in the space station's Destiny laboratory.
Inside the lab, R2 will not be mobile. He'll be mounted on a fixed pedestal, but NASA says another robot project called Centaur 2 could eventually become the lower body of R2. As the name might suggest, Centaur 2 is not a set of legs, but an all-terrain wheeled vehicle that would turn R2 into a sort of car with a humanoid torso.
R2 includes advanced control, sensor, and vision systems, many of which were invented and patented during his development. GM and NASA obtained 34 new advanced robotics patents while designing the robot.
"One of GM's core goals is to lead in advanced technology and quality, said Alan Taub, GM's vice president of Global Research and Development. "This partnership and the development of R2 are providing us with innovative technologies that will help us achieve these goals in both our future products and plants."