By Joe Wilcox, Betanews
Stephen Elop and Bob Muglia delivered two of the more difficult presentations during Microsoft's annual Financial Analyst Meeting. Elop runs the Business division, which had been a consistent performer until fiscal fourth quarter, when revenue fell 13 percent year over year. Server and Tools did better, but still took a revenue hit in fourth quarter.
The two divisions share several important attributes, and the businesses are highly entwined. With the 2003 release cycle, Microsoft started aggressively increasing integration along the vertical applications stack between Office and server software. The integration creates sales pull for Office and newer server software, like SharePoint Server. I leave out Exchange Server, since Microsoft long ago established applications stack integration with Outlook.
This vertical integration also relates to sales changes that Microsoft announced in May 2001 but didn't fully bring to market until summer 2002: Annuity licensing. Under annuity licensing, businesses pay Microsoft upfront annually under two- or three-year contracts. Microsoft had long sold software under volume-licensing contracts, but the change added what the company calls "Software Assurance," and upgrade pricing included with the contract price. (Enterprise Agreement had been this way, but not other licensing plans.)
Together, annuity licensing changes and increased integration along the vertical stack changed how businesses bought desktop software, particularly. As revealed at FAM today, for both divisions, annuity contracts contribute about 60 percent of revenue.
The contractual commitments are important to Microsoft:
The contracts are like money in the bank; they're assured sales.
Customers are less likely to switch to competing products, seeing as how they've already paid Microsoft.
Annuity licensing smoothes out Microsoft revenue, so there are fewer highs and lows between product releases.
Microsoft revenue is somewhat cushioned against economic slowdowns, since customers already have paid or committed to pay Microsoft.
Not surprisingly, this last benefit has proved really important to Microsoft during the global session. "We are cushioned somewhat" by annuity licensing, Muglia, Server and Tools president, told financial analysts this afternoon."What you have in essence is a shock absorber to the business."
For Server and Tools, annuity licensing potentially averted sales disaster. Muglia noted that at the start of fiscal 2009, IDC predicted 6 percent server hardware growth. But starting in October, server sales plummeted, stabilizing at about a 15 percent year-over-year decline at the close of fiscal 2009, on June 30.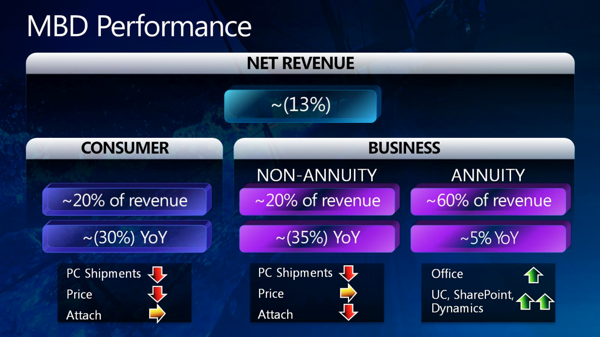 Microsoft's Client division is by comparison hugely exposed to declining hardware sales. OEMs account for about 80 percent of Windows sales. By comparison, for Server and Tools, "40 percent of revenue is of a transactional nature," Muglia said.
Muglia asserted that during the recession Microsoft server software sales continued to exceed industry hardware growth, and that "our annuity sales have remained fairly strong during this period."
By comparison, Business division absorbed more pain during the recession so far. In fiscal fourth quarter, Business revenue and income fell 13 percent and 16 percent, respectively, year over year. By comparison, Server and Tools revenue and income declined by 6 percent and 1 percent, respectively.
Elop was clear and concise about the Business division's problems, which really started after the late-September stock market crash. Elop explained how the Business division derives its revenue:
Annuity licensing — 60 percent
Non-annuity sales — 20 percent
Consumer — 20 percent
Slowing PC sales hit both consumer and non-annuity revenue. Non-annuity sales are to businesses, such as boxed copies of Office. Consumer revenue declined about 30 percent during fiscal 2009 and non-annuity by about 35 percent, Elop said. By comparison, annuity licensing increased 5 percent.
What Elop didn't say, but other Microsoft executives have explained during earnings conference calls with financial analysts: Many customers renewing annuity contracts are doing so at lower levels, because of downsizing and layoffs.
Strangely, the econolypse has exposed a weakness in Microsoft's annuity contract strategy — and one likely to come around only under the rare economic crunch. The annuity licensing strategy assumes growth, that customers will renew contracts and at higher levels. That's true, as long as there aren't massive layoffs.
Both divisional presidents expressed optimism for the future, but warned second half 2009 would still prove to be challenging.