By Joe Wilcox, Betanews
Man, Verizon can't ship iPhones fast enough. Apple's smartphone wheezed into the holidays eating Android's dust, according to data released today by ComScore. Only Verizon can save iPhone now, but ComScore won't record those sales, which started as preorders last week, until March.
The trend is so consistent, it's getting boring to report: Apple continued its flat growth for the three-month period ending in December. Apple's smartphone share rose slightly, from 24.3 percent to 25 percent. Meanwhile, Android's US smartphone market share rose from 21.4 percent to 28.7 percent. The data is fairly consistent with December market share and growth numbers released last week by Nielsen: Flat iOS market share growth and Android rapidly rising — 43 percent of recent purchasers chose a smartphone running Android in December. However, Nielsen put iPhone 1 percentage point ahead of Android handsets, based on operating systems. ComScore uses US mobile subscribers to measure smartphone platform market share.
It's revealing that iOS market share is flat, at least compared to Android, following release of iPhone 4, which, according to Nielsen, only gave iPhone a modest bump. Verizon could be just what Apple needs to rev sales and US subscriber share, that is assuming carrier churn — AT&T iPhone users switching to Verizon's version — doesn't bring sideways growth while Android expands its base.
Research in Motion continues to bleed share, something even more obvious in Nielsen's data. For the last three months of the year, compared to the previous three months, RIM's US subscriber share declined from 37.3 percent to 31.6 percent, according to ComScore. However, it still leads both Android handsets and iPhone.
Microsoft's mobile operating system also declined during the same period, but less severely from 9.9 percent to 8.4 percent. Lost market share isn't surprising. That it wasn't more is. Sales decline ahead of Windows Phone 7's release is to be expected. The first handsets shipped midway through the forecast period.
The US smartphone market is still rapidly growing, up 60 percent year over year; there were 63.2 million smartphone owners at the end of December, according to ComScore.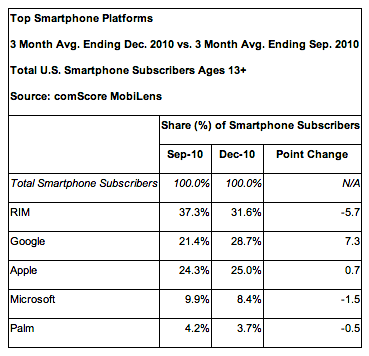 On the hardware side, looking at all handsets not just smartphones, Samsung ranked No. 1, with its share up to 24.8 percent from 23.5 percent between the two three-month series. Samsung is having a good run with Android-based Galaxy S series smartphones, selling over 10 million from June to end of 2010. In December, I bought the Galaxy S-based, Google-branded Nexus S. Among the top five, Samsung was the only manufacturer to gain US subscriber share. Not coincidentally, Samsung also is a big Android supporter. LG, Motorola, RIM and Nokia rounded out the top five.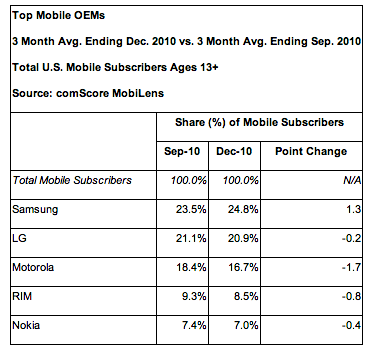 ComScore's data is for Americans 13 and older, 234 million of which used "mobile devices" (e.g. handsets) during the three months ending in December. The data is based on mobile phone subscribers. What do people do with these devices? The majority of cell phone subscribers send text messages (68 percent), while 36.4 percent used a browser and 34.4 percent downloaded apps.
Which smartphone do you use and which mobile operating system? Please feel free to answer in comments. Based on last month's informal survey, most Betanews readers aren't planning a switch to Verizon iPhone.