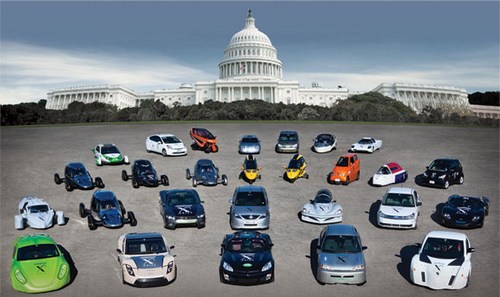 Thursday, the winners of the million Progressive Insurance Automotive X Prize were announced at a special ceremony at the Historical Society in Washington DC. The ten million dollar contest challenged 111 teams to create a clean, production-capable vehicle that could exceed 100 miles per gallon or its energy equivalent (MPGe).
The ten million dollar prize today was divided among three vehicle classes: million for mainstream, and .5 million each for alternative side-by side, and alternative tandem.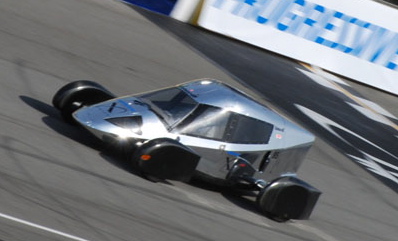 The mainstream class winner was the Edison2 "Very Light Car #98," which is powered by E85 Ethanol and can reach 102.5 MPGe. As the vehicle's name would suggest, the main idea behind this vehicle is its extremely light weight.
Coming in at just 830 pounds, the Very Light Car had the lowest drag coefficient of any of the four-wheeled cars in the contest. The Very Light Car, designed by Virgina-based Edison2, has a 250cc, 40 Horsepower single-cylinder engine, a 6-speed manual clutch, rack and pinion steering and disc brakes. It can hold 6.5 gallons of fuel which yields more than 600 miles of travel, and has a top speed of 100mph.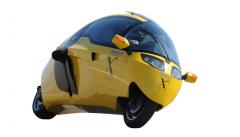 The alternative tandem class winner was the "E-Tracer #79" from X-Tracer Team Switzerland. This electric vehicle is a so-called "cabin motorcycle" rather than a car, but it displayed an impressive 205.3 MPGe, and went from zero to sixty in only 6.6 seconds.
The X-Tracer team says the E-Tracer can go 150 miles on a one-hour charge, and is capable of traveling 150mph. They designed the vehicle as a counterpoint to the inefficient cars that have become an international standard. They called these cars "a frozen tribute to the era that first produced [them], when fossil fuel oozed plentifully and cheaply…The sad truth is that 90% of the planet's fossil fuel resources have been squandered on cars that run on 10% energy efficiency."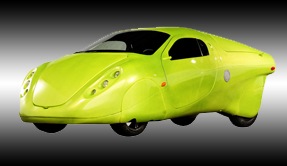 The alternative side-by-side class winner came from North Carolina's Li-ion Motors. Their battery-powered "Wave II" can provide 187 MPGe efficiency, and a range of 170 miles per charge. This all-electric car displayed a 14.7 second zero-to-sixty in the X Prize test, and Li-ion says it averages about 12 seconds.
Jay Sandler, vice president of sales at Azure Dynamics, the company that provided the powertrain technology for the Wave II, said "We're thrilled with Team Li-Ion's victory. The X Prize-winning Wave II is clear demonstration that electric mobility has not only arrived, but is poised to be a major player in the commercial and personal transportation sectors in the near term."

Washington DC – Progressive Insurance Automotive X Prize – North Carolina – Miles per gallon gasoline equivalent – Energy