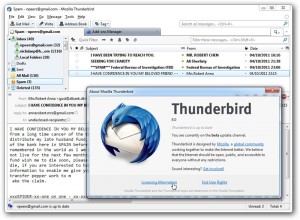 Mozilla has unveiled the next two pre-releases of its messaging client. Thunderbird 8 Beta follows sibling browser Firefox 8 Beta in changing the way it handles add-ons. Other changes are less noticeable. Attachment lists are said to be more accessible, while a number of unspecified platform fixes and user interface tweaks have also been implemented.
The key change in Thunderbird 8 is how it handles add-ons. Like Firefox 8, add-ons installed by third-party programs will now be disabled by default — the user will be prompted to review and enable the add-on manually the first time Thunderbird runs after it's installed. The add-on can also be managed from the Add-ons section of the program.
Similarly, when a major new update of Thunderbird is released, a screen inviting the user to select their add-ons will be displayed, allowing them to review what's installed and enable selected add-ons. Add-ons not yet compatible can be set to enable automatically when a compatible update is applied.
Also released is Earlybird 9.0a2, the pre-release alpha version of Thunderbird. No release notes are provided with this version, and after a cursory glance we couldn't discern any notable new features, making it likely this will be a largely maintenance release when it occurs.
Both Thunderbird 8 Beta and Earlybird 9.0a2 are available as open-source downloads for Windows, Mac and Linux. The release date for the final versions of both Thunderbird 8 and Firefox 8 is slated for 8th November.