Trend Micro on Monday became the latest security software company to release a parental control package aimed at protecting kids from trouble on social networking sites.
Referring to a recent study from Pew Internet research, Trend Micro on Monday said over 90% of kids ages 12-17 are on the Internet, and over 70 percent of teens have a social networking profile of one kind or another. In McAfee's 2008 report The Secret Online Lives of Teens (.pdf here) the security company estimated that percentage to be considerably higher at 81% and growing.
As this number grows, parents have shown a growing concern for their kids' online reputation, their susceptibility to scams and predators, whether they're oversharing, and whether they are being exposed to certain types of information.
And because these interactions are, for the most part, taking place across different PCs and mobile devices, a parental control system based on a single login on a single PC isn't likely to make much of a difference. Trend Micro's Online Guardian monitors the kids' various online accounts and digests the activity into a single report for parents. It includes services like Facebook, Twitter, MySpace, YouTube, Flickr, as well as messaging clients such as MSN and Yahoo, and monitoring keyword searches.
It also includes the more traditional parental control features: setting limits for computer use, adult content blocking, preventing sites that ask for credit card info, multi-user profiling, and comprehensive activity reporting.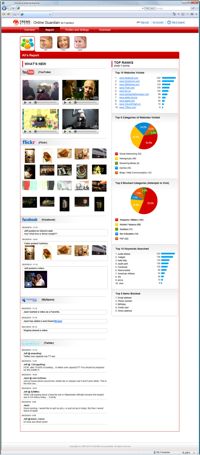 Trend Micro Online Guardian for Families costs $49.99 per license, and supports up to five "child" accounts.