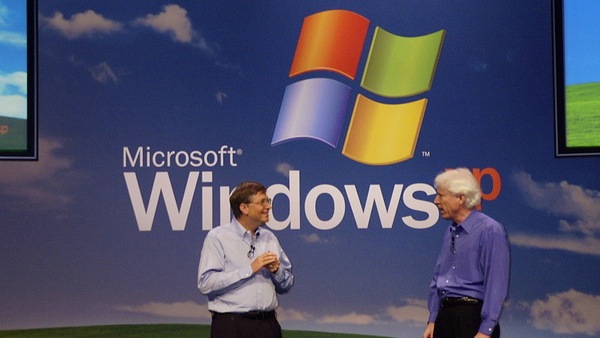 Second in a series. I remember my Windows XP experiences like it was just yesterday. I became aware of Windows XP when it was called Whistler back in 2000. There was a technology television show on ZD-TV called "The Screen Savers" with host Leo Laporte and Patrick Norton. During many call-ins, persons would ask, should I upgrade from Windows 98 to ME or 2000. Leo would often suggest that users shouldn't bother since Whistler would be coming out next year.
I wondered what this Whistler was about, so I decided to do some web searching about it and came across Paul Thurrott's Supersite for Windows. I started following his chronicles with the early betas from early development phases into what became Windows XP with the well-known Luna theme around beta 2.
I remember in early 2001 when Microsoft Chairman Bill Gates unveiled the Windows XP name, which stood for eXPerience. It was exciting at the time for me. I was in my last year of high school, and I remember going to school and talking about it. When beta 2 came around, I showed everyone at school some early screenshots of the OS from Paul Thurrott's website. My fellow classmates and IT Teacher didn't seem interested or impressed by it. Strange enough, we were running old IBM Aptivas with Windows 95 and Office 97.
When August 2001 came around, I remember watching a ZD-TV news segment about the RTM launch on the Redmond campus, my dad and mom also watched it. (I remember Bill Gates trying to dance to Kool & the Gangs' "Celebration" playing in the background, it was obvious he was proud of the work the Windows Team had accomplished just by his expression.)
My dad did not seem impressed; we had upgraded our computer to Windows 2000 Professional back in April of 2001, so he wasn't interested in spending money on or doing another upgrade again so soon. I remember him making comments like this is just another upgrade we can do without. I was trying to make a case for Windows XP, but it wasn't going well. This was a month after I had graduated from high school. There were a lot of things going on at the time — I was waiting on my Caribbean Examination Council exam results, nervously hoping I had done well. At the same time, I was anticipating Michael Jackson's long-awaited Studio album "Invincible" [Editor's Comment: Who wasn't?].
In early September, ZD-TV did a special report about Windows XP, what it meant to the industry and would it be worth upgrading to. They repeated it numerous times and I watched it numerous times. Becky Worley hosted and narrated the segment. A couple weeks went by, my mom and brother were leaving for the States to visit some family and friends on Tuesday morning, September 11, 2001. I remember accompanying my parents to my brother's house that morning. At first, the ABC news reports said something like a small plane crashed into one of the World Trade Center towers. We thought nothing of it, this was around 8 a.m. ET in Jamaica. We packed up and headed to the Airport.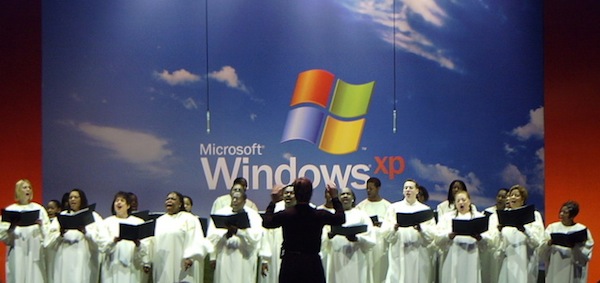 Choir sings "America the Beautiful" during Windows XP launch
On our way, a breaking news story came on the radio informing listeners that the United States was under attack. We didn't add up the plane that had crashed into the building earlier in the morning. When we arrived at the airport, we got the entire story. Flights were delayed, my mom and bro eventually got on a late flight to Florida and were able to enjoy their vacation, but they noted the subdued atmosphere at the time and what seemed like an uncertainty around the US. It was surreal at the time and was just difficult that this was really happening, it was really a sad time and a tragedy that stays etched in my mind.
In late September, I was doing some Math courses because I had failed the CXC exam in mathematics. I remember coming home from class to see what took place at the October 25, 2001 launch event. ZD-TV had some good coverage: Bill Gates and Mayor Rudy Giuliani announcing New York is once again open for business; a choir doing an opening hymn; Gates announcing the end of DOS and entering some commands in a command prompt to kill it; a customized version of 'Who wants to be a millionaire?' with host Regis Philbin. They had also shown some scenes with Gates out in Time Square holding a boxed copy of Windows XP Professional.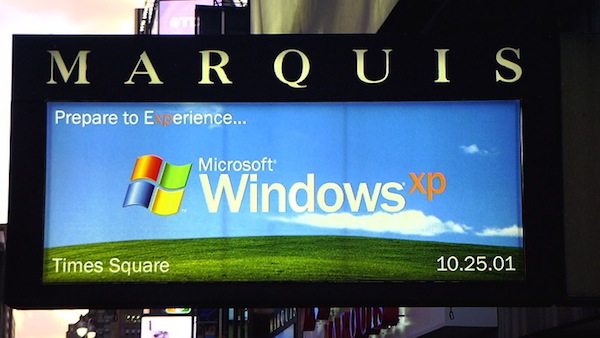 Times Square sign promotes Windows XP
Months passed, years actually, until I upgraded to Windows XP — in 2003. (I gave my former High School History teacher some money to pick up copies of both Windows XP Home and Professional upgrades.) I used XP up until Windows Vista's release.
My strongest recollections about Windows XP mostly surround the release, when I reflect on it. My father was alive, my friend 'Risha' was alive. There wasn't this complexity to life in a way. Things seemed just right and I looked forward to the future, enjoying the time with family and friends. Looking back, it was a great experience and sometimes I wish I could live it all over again.
Photo Credits: Nate Mook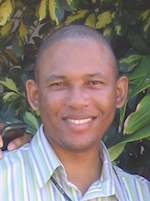 Residing on the Caribbean island of Jamaica in the West Indies, Andre Da Costa best describes himself as a technology enthusiast. He authors a blog about his experiences using Windows and Windows Live services. Andre is also a contributing writer at http://www.notebooks.com. Andre is a two-time Microsoft MVP Awardee, his area of expertise is Windows Expert-Consumer for 2011.